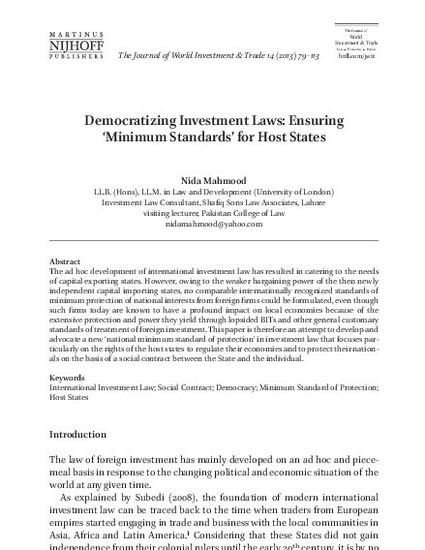 Article
Democratizing Investment Laws: Ensuring Minimum Standards for Host States
Journal of World Investment and Trade (2013)
Abstract
The ad hoc development of international investment law has resulted in catering to the needs of capital exporting states. However, owing to the weaker bargaining power of the then newly independent capital importing states, no comparable internationally recognized standards of minimum protection of national interests from foreign firms could be formulated, even though such firms today are known to have a profound impact on local economies because of the extensive protection and power they yield through lopsided BITs and other general customary standards of treatment of foreign investment. This paper is therefore an attempt to develop and advocate a new 'national minimum standard of protection' in investment law that focuses particularly on the rights of the host states to regulate their economies and to protect their nationals on the basis of a social contract between the State and the individual.
Keywords
social contract,
democracy,
international investment,
minimum standards,
host states
Citation Information
Nida Mahmood. "Democratizing Investment Laws: Ensuring Minimum Standards for Host States"
Journal of World Investment and Trade
Vol. 14 Iss. 1 (2013)
Available at: http://works.bepress.com/nida_mahmood/5/