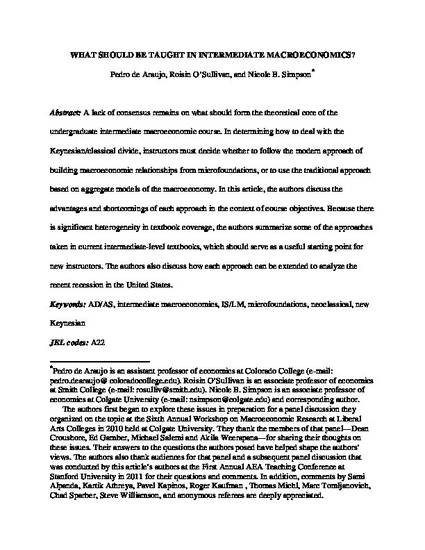 Article
What should be taught in Intermediate Macroeconomics?
Journal of Economic Education (2013)
Abstract
A lack of consensus remains on what should form the theoretical core of the undergraduate intermediate macroeconomic course. In determining how to deal with the Keynesian/classical divide, instructors must decide whether to follow the modern approach of building macroeconomic relationships from microfoundations, or to use the traditional approach based on aggregate models of the macroeconomy. In this article, the authors discuss the advantages and shortcomings of each approach in the context of course objectives. Because there is significant heterogeneity in textbook coverage, the authors summarize some of the approaches taken in current intermediate-level textbooks, which should serve as a useful starting point for new instructors. The authors also discuss how each approach can be extended to analyze the recent recession in the United States.
Keywords
AD/AS,
intermediate macroeconomics,
IS/LM,
microfoundations,
neoclassical,
new Keynesian
Citation Information
Nicole B Simpson, Pedro de Araujo and Roisin O'Sullivan. "What should be taught in Intermediate Macroeconomics?"
Journal of Economic Education
(2013)
Available at: http://works.bepress.com/nicole_simpson/5/