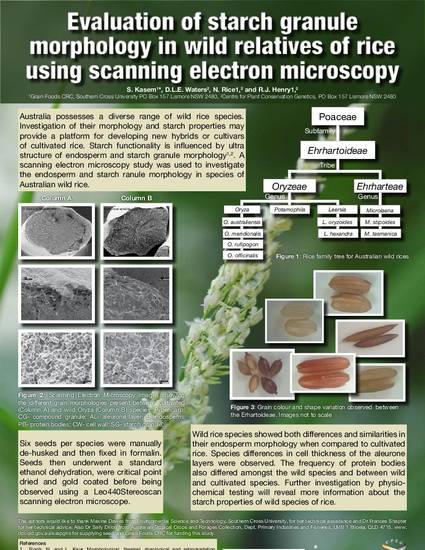 Presentation
Evaluation of starch granule morphology in wild relatives of rice using scanning electron microscopy
58th Australian Cereal Chemistry Conference
Document Type
Presentation
Publication Date
1-1-2008
Abstract
Rice grains exhibit unique starch properties and these properties differ among varieties. Starch granule morphology influences the physicochemical characteristics of starch and granule shape/size are a contributing factor in starch functional properties. Wild rice relatives represent a diverse range of material that may be useful for the identification of novel end-products or identify new germplasm for breeding programs. Comparative scanning electron microscopy studies can reveal differences in starch granule morphology between species. This study presents a qualitative evaluation of starch granule morphology of 19 spp. from four different genera (Oryza, Potamophila, Microlaena and Zizania) belonging to two different tribes (Oryzeae, Ehrharteae). The differences between the starch granule morphology and aluerone layer composition across these species will be discussed.
Citation Information
Kasem, S, Waters, DLE, Rice, NF & Henry, RJ 2008, 'Evaluation of starch granule morphology in wild relatives of rice using scanning electron microscopy', paper presented to 58th Australian Cereal Chemistry Conference, Gold Coast Qld., 31 August – 4 September.