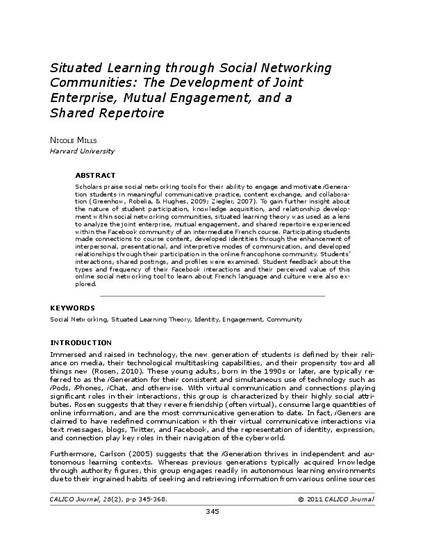 Article
Situated Learning through Social Networking Communities: The Development of Joint Enterprise, Mutual Engagement, and a Shared Repertoire
CALICO Special Volume: Second Language Acquisition Theories, Technologies, and Language Learning (Eds., S. Thorne & B. Smith) (2011)
Abstract
Participation in online social communities is suggested to have a myriad of advantages for foreign language learners. Researchers claim that social computing may facilitate second language acquisition (Blake, 2009), develop students' sense of agency and engagement (Lafford, 2009), enhance the development of multi-modal literacies, and hybridize communicative practice (Thorne, Black, & Sykes, 2009). Furthermore, because social networking places emphasis on building relationships, the use of social communities in foreign language education may also support the situative perspective of learning (Mayes & de Freitas, 2007). This perspective suggests that learning is experienced through relationships and that the individual's identity as a learner is shaped by his relationship to the community (Lave & Wenger, 1991; Wenger, 1998). According to Mayes & Freitas (2007), the situative perspective has various implications for learning including learner participation in social practices, the acquisition of habits, attitudes, values, and skills in context, and the development of relationships and identities. This study examined a Facebook project conducted within a global simulation curriculum at the intermediate level of French and its relationship to the situative learning perspective. In global simulation, students develop a fictive, yet culturally grounded world, assume the role of a self-developed character, and collaborate with fellow community members (Magnin, 1997). Course content was contextualized around Paris and its culture, housing, art, cuisine, and literature and students assumed the roles of tenants in a Parisian building, wrote chapters in their memoirs, and collectively developed a storyline of life in the Montmartre quarter of Paris. The students developed Facebook profiles for their characters, became "friends" only with tenants ( fellow classmates and the instructor), and were asked to interact within this Facebook community at least three times per week and post and share their memoirs as "notes" on Facebook. In accordance with the implications of the situative perspective of learning suggested by Mayes & Freitas (2007), this manuscript will present how this Facebook project allowed the 17 participating students to participate in French social practices, gain information about French cultural products, and make connections to other disciplines; how students developed identities through the enhancement of the interpersonal, presentational, and interpretive modes of communication; and how students developed relationships and established roles via their participation in the online francophone community. Students' interactions, shared postings, and profiles will be examined. Student feedback about the types and frequency of their Facebook interactions, their attention to grammatical accuracy and vocabulary choice, and their perceived value, interest, and benefits of this online social networking tool to learn about French language and culture will also be presented. Lafford (2009) suggested that we begin to conduct more studies of the use of Web 2.0 communication technologies in foreign language education so that we may gain a better understanding of how these technologies, such as social networking, promote awareness of students' membership to a "larger, worldwide, interconnected, multilinguistic ecosystem" (p. 693). This study aims to address this question in addition to examining how students navigate the development of online personas and relationships within social networking communities. Although the attempt to draw on only one approach to learning may reveal a limited scope in the evaluation of the complexity of social networking tools and their relationship to foreign language learning and second language acquisition theories, this manuscript aims to provide valuable information about social networking and its relationship to the identity development, the facilitation of dialogues and relationships, and the creation of authentic opportunities for learning.
Citation Information
Nicole A Mills. "Situated Learning through Social Networking Communities: The Development of Joint Enterprise, Mutual Engagement, and a Shared Repertoire"
CALICO Special Volume: Second Language Acquisition Theories, Technologies, and Language Learning (Eds., S. Thorne & B. Smith)
Vol. 28 Iss. 2 (2011)
Available at: http://works.bepress.com/nicole_mills/33/