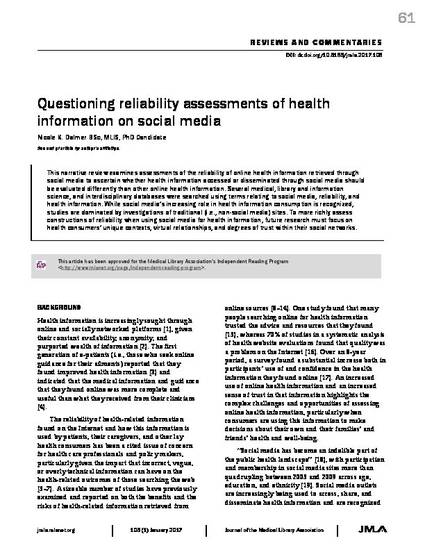 Article
Questioning reliability assessments of health information on social media
Journal of the Medical Library Association
Publication Date
1-1-2017
URL with Digital Object Identifier
dx.doi.org/10.5195/jmla.2017.108
Abstract
This narrative review examines assessments of the reliability of online health information retrieved through social media to ascertain whether health information accessed or disseminated through social media should be evaluated differently than other online health information. Several medical, library and information science, and interdisciplinary databases were searched using terms relating to social media, reliability, and health information. While social media's increasing role in health information consumption is recognized, studies are dominated by investigations of traditional (i.e., non-social media) sites. To more richly assess constructions of reliability when using social media for health information, future research must focus on health consumers' unique contexts, virtual relationships, and degrees of trust within their social networks.
Citation Information
Dalmer, Nicole K. (2017) Questioning reliability assessments of health information on social media. Journal of the Medical Library Association, 105(5), 61-68.