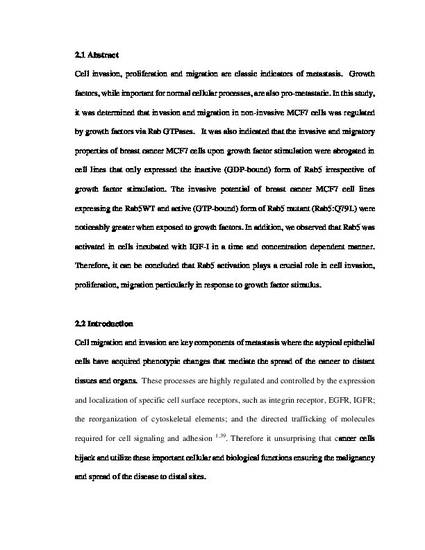 Unpublished Paper
Insulin-like growth factor-I induces migration and invasion via Rab5 Activation
Cancer Biology and Endocytosis (2016)
Abstract
Cell invasion, proliferation and migration are classic indicators of metastasis. Growth
factors, while important for normal cellular processes, are also pro-metastatic. In this study, 
it was determined that invasion and migration in non-invasive MCF7 cells was regulated 
by growth factors via Rab GTPases. It was also indicated that the invasive and migratory 
properties of breast cancer MCF7 cells upon growth factor stimulation were abrogated in 
cell lines that only expressed the inactive (GDP-bound) form of Rab5 irrespective of 
growth factor stimulation. The invasive potential of breast cancer MCF7 cell lines 
expressing the Rab5WT and active (GTP-bound) form of Rab5 mutant (Rab5:Q79L) were 
noticeably greater when exposed to growth factors. In addition, we observed that Rab5 was 
activated in cells incubated with IGF-1 in a time and concentration dependent manner. 
Therefore, it can be concluded that Rab5 activation plays a crucial role in cell invasion, 
proliferation, migration particularly in response to growth factor stimulus.
Citation Information
Nicole Porther and M Alejandro Barbieri. "Insulin-like growth factor-I induces migration and invasion via Rab5 Activation"
Cancer Biology and Endocytosis
(2016)
Available at: http://works.bepress.com/nicole-porther/3/