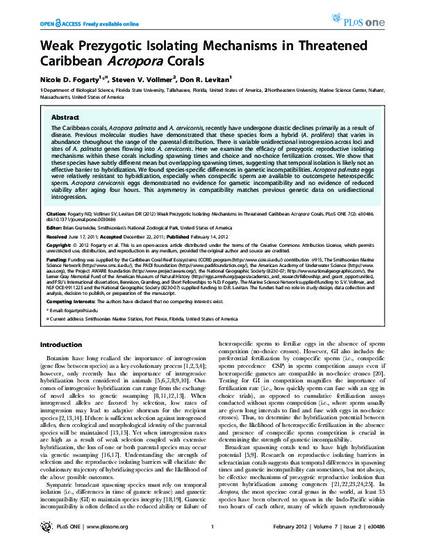 Article
Weak Prezygotic Isolating Mechanisms in Threatened Caribbean Acropora Corals
PLoS One
Publication Date
2-1-2012
Keywords
Sperm,
Fertilization,
Introgression,
Larvae,
Corals,
Polymerase chain reaction,
Hybridization,
Sunset
Abstract
The Caribbean corals, Acropora palmata and A. cervicornis, recently have undergone drastic declines primarily as a result of disease. Previous molecular studies have demonstrated that these species form a hybrid (A. prolifera) that varies in abundance throughout the range of the parental distribution. There is variable unidirectional introgression across loci and sites of A. palmata genes flowing into A. cervicornis. Here we examine the efficacy of prezygotic reproductive isolating mechanisms within these corals including spawning times and choice and no-choice fertilization crosses. We show that these species have subtly different mean but overlapping spawning times, suggesting that temporal isolation is likely not an effective barrier to hybridization. We found species-specific differences in gametic incompatibilities. Acropora palmata eggs were relatively resistant to hybridization, especially when conspecific sperm are available to outcompete heterospecific sperm. Acropora cervicornis eggs demonstrated no evidence for gametic incompatibility and no evidence of reduced viability after aging four hours. This asymmetry in compatibility matches previous genetic data on unidirectional introgression.
ORCID ID
0000-0003-3811-3791
DOI
10.1371/journal.pone.0030486
Citation Information
Nicole D. Fogarty, Steven V. Vollmer and Don R. Levitan. "Weak Prezygotic Isolating Mechanisms in Threatened Caribbean Acropora Corals"
PLoS One
Vol. 7 Iss. 2 e30486 (2012) p. 1 - 11 ISSN: 1932-6203
Available at: http://works.bepress.com/nicole-fogarty/10/