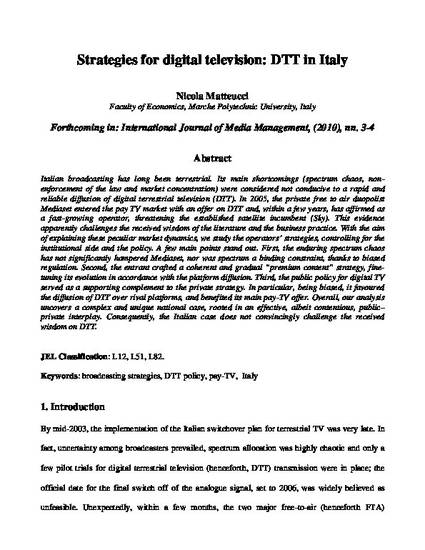 Article
Strategies for digital TV: DTT in Italy
International Journal on Media Management (2010)
Abstract
Italian broadcasting has long been terrestrial. Its main features (spectrum chaos, market concentration and chronic non enforcement of norms) were considered not conducive to a rapid and reliable diffusion of digital terrestrial TV (DTT). In 2005, the private terrestrial duopolist (Mediaset) entered the pay market with a pay-per-view offer on DTT and, within a few years, has affirmed as a fast-growing pay-TV operator, threatening the established satellite incumbent (Sky). This evidence apparently challenges the received wisdom of the literature and the business practice. We study the launch of DTT in Italy and the main operators' strategies, with the aim of explaining these original market dynamics. Our economic and strategic analysis is closely intertwined with the appraisal of the institutional side and the overall Italian policy for digital TV. A few main points stand out. First, the enduring spectrum chaos has not significantly hampered Mediaset's digital strategy, nor spectrum was a binding constraint, thanks to biased regulation. Second, the entrant crafted a coherent and gradual premium content strategy, fine-tuning its evolution in accordance with the platform diffusion. Third, the public policy for digital TV, with its distorting focus on the terrestrial platform, served as a supporting complement to the private strategy: in particular, it favoured the diffusion of DTT over rival platforms, and benefited its main pay-TV offer. On overall, the analysis uncovers a complex and unique national case, rooted in an effective, albeit contentious, public-private interplay. Consequently, the Italian case does not convincingly challenge the received wisdom on DTT.
Keywords
Media Management,
Competitive Strategy,
Media Markets,
Regulation of Media,
Diffusion Theory
Citation Information
Nicola Matteucci. "Strategies for digital TV: DTT in Italy"
International Journal on Media Management
Vol. 12 Iss. 3-4 (2010)
Available at: http://works.bepress.com/nicola_matteucci/23/