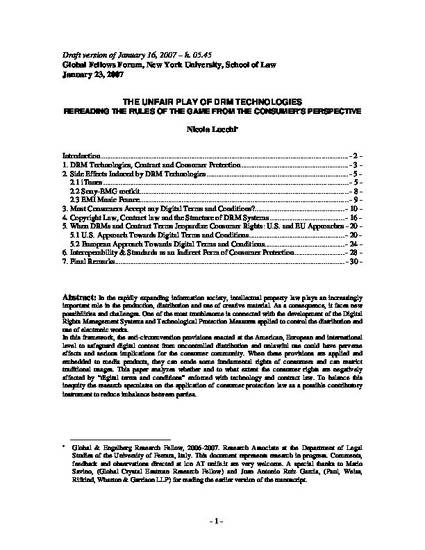 Unpublished Paper
THE UNFAIR PLAY OF DRM TECHNOLOGIES: REREADING THE RULES OF THE GAME FROM THE CONSUMER'S PERSPECTIVE
NYU Global Fellows Forum (2007)
Abstract
In the rapidly expanding information society, intellectual property law plays an increasingly important role in the production, distribution and use of creative material. As a consequence, it faces new possibilities and challenges. One of the most troublesome is connected with the development of the Digital Rights Management Systems and Technological Protection Measures applied to control the distribution and use of electronic works. In this framework, the anti-circumvention provisions enacted at the American, European and international level to safeguard digital content from uncontrolled distribution and unlawful use could have perverse effects and serious implications for the consumer community. When these provisions are applied and embedded to media products, they can erode some fundamental rights of consumers and can restrict traditional usages. This paper analyzes whether and to what extent the consumer rights are negatively affected by "digital terms and conditions" enforced with technology and contract law. To balance this inequity the research speculates on the application of consumer protection law as a possible contributory instrument to reduce imbalance between parties.
Keywords
DRM technologies,
Digital Rights Management,
consumer protection
Publication Date
January, 2007
Citation Information
Nicola Lucchi. "THE UNFAIR PLAY OF DRM TECHNOLOGIES: REREADING THE RULES OF THE GAME FROM THE CONSUMER'S PERSPECTIVE"
NYU Global Fellows Forum
(2007)
Available at: http://works.bepress.com/nicola_lucchi/2/