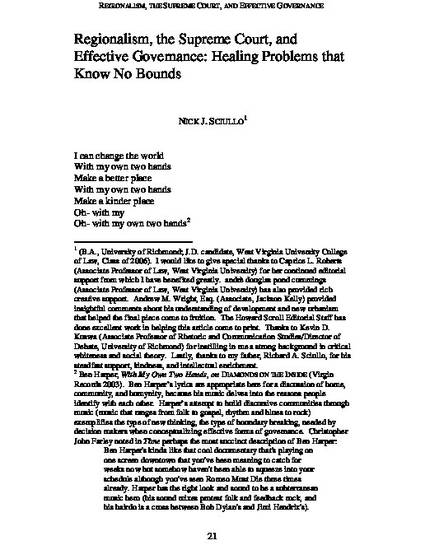 Article
Regionalism, the Supreme Court, and Effective Governance: Healing Problems that Know No Bounds
Howard Scroll: The Social Justice Law Review (2006)
Abstract
By actively endorsing remedies that favor a city-suburb divide, the Supreme Court has failed to allow regional development. The Supreme Court's federalism jurisprudence is unresponsive to the myriad issues pervading society. Ultimately, individuals must take action, through a process formulated in this article, to change the way in which governments and the courts respond to the needs of populations.
A battery of cases including Brown v. Board of Education and its progeny, Missouri v. Jenkins and Milliken v. Bradley, reached the Supreme Court during the tumultuous 1950s, 1960s, and 1970s. A vast array of environmental laws and housing regulations also emerged onto the national legal stage. The Supreme Court embodied a strong sense of judicial activism and concern for national remedies to address national issues. The result was a plethora of legislation on discriminatory conduct, environmental regulations, and living standards. While this time period saw much in the way of progressive answers to current metropolitan problems, the Court substantially erred when it held in Milliken that interdistrict remedies for school desegregation were unconstitutional. The current Supreme Court can mediate the competing desires of judicial restraint and local control with the realities of problems which exist on a much larger scale, requiring more than a solution built on precedent and intolerance, by carefully rethinking and revaluating ideas about effective governance.
Keywords
Nick J. Sciullo,
regionalism,
Supreme Court,
federalism,
Milliken,
governance,
Gautreaux,
transgressive meta practice,
states rights,
activist court,
race,
critical race theory
Citation Information
Nick J Sciullo. "Regionalism, the Supreme Court, and Effective Governance: Healing Problems that Know No Bounds"
Howard Scroll: The Social Justice Law Review
Vol. 8 Iss. 2 (2006)
Available at: http://works.bepress.com/nickjsciullo/3/