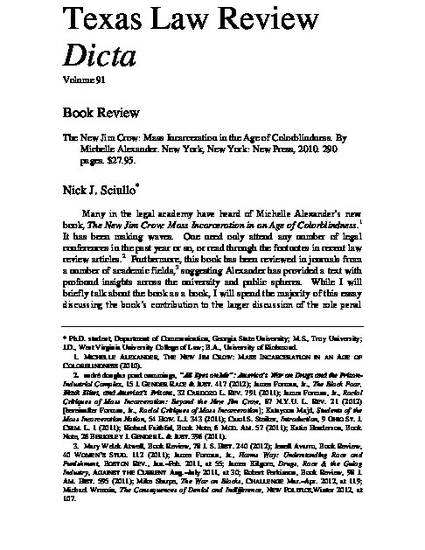 Article
Book Review: The New Jim Crow: Mass Incarceration in the Age of Colorblindness
Texas Law Review Dicta (2012)
Abstract
Many in the legal academy have heard of Michelle Alexander's new book, The New Jim Crow: Mass Incarceration in an Age of Colorblindness. It has been making waves. One need only attend any number of legal conferences in the past year or so, or read through the footnotes in recent law review articles. Furthermore, this book has been reviewed in journals from a number of academic fields, suggesting Alexander has provided a text with profound insights across the university and public spheres. While I will briefly talk about the book as a book, I will spend the majority of this essay discussing the book's contribution to the larger discussion of the role penal institutions have in society. To do this, I will consider what contributions Alexander makes in light of Michel Foucault's Discipline and Punish: The Birth of the Prison and Loïc Wacquant's writings on prisons. My references to these texts will not be extensive given the space restraints of this forum, but I hope to open a discussion about the relevance of Alexander's text to broader critical interpretations of prison history.
Keywords
Michelle Alexander,
Nick J. Sciullo,
New Jim Crow,
race,
critical race theory,
Foucault,
prison,
mass incarceration,
color blind,
Wacquant
Citation Information
Nick J. Sciullo. "Book Review: The New Jim Crow: Mass Incarceration in the Age of Colorblindness"
Texas Law Review Dicta
Vol. 91 (2012)
Available at: http://works.bepress.com/nickjsciullo/12/