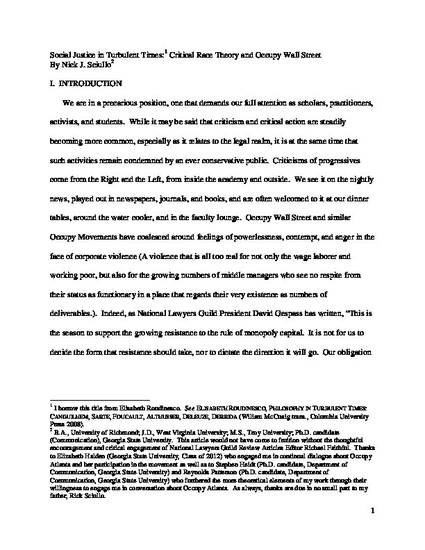 Article
Social Justice in Turbulent Times: Critical Race Theory and Occupy Wall Street
National Lawyers Guild Review (2012)
Abstract
In this brief article, I tackle several issues that are critically important to progressive move(ment)s in the law and in society as a whole. I am convinced that the progressive community can make great strides in enriching the law and people's experience with it through continued articulation and combined sense of theory and practice. We need to move beyond litigation and engage our critical consciousness to embrace activism on all fronts. This is why I locate a positive politics of struggle in the Occupy Movements that I believe progressives ought to embrace . We must simultaneously come to grips with the tremendous injustices perpetrated on people of color while we critique the capitalist system that enacts a powerful system of oppression that is concomitant with the plight of racialized minorities. Social justice in turbulent times? Yes. A futurity of possibility? Absolutely.
Keywords
Occupy Wall Street,
critical race theory,
Nick J. Sciullo,
continental philosophy,
social movements
Citation Information
Nick J. Sciullo. "Social Justice in Turbulent Times: Critical Race Theory and Occupy Wall Street"
National Lawyers Guild Review
Vol. 69 Iss. 4 (2012)
Available at: http://works.bepress.com/nickjsciullo/11/