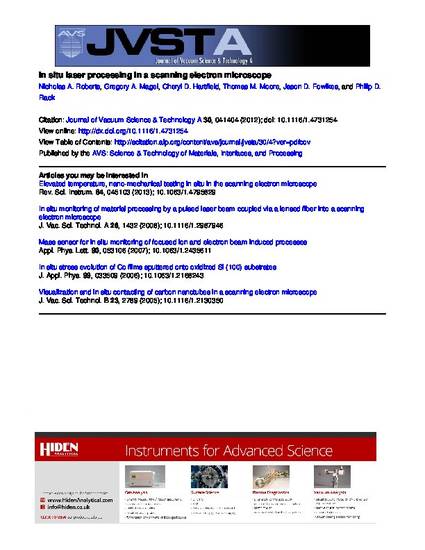 Article
In situ laser processing in a scanning electron microscope
Journal of Vacuum Science and Technology A (2012)
Abstract
Laser delivery probes using multimode fiber optic delivery and bulk focusing optics have been constructed and used for performing materials processing experiments within scanning electron microscope/focused ion beam instruments. Controlling the current driving a 915-nm semiconductor diode laser module enables continuous or pulsed operation down to sub-microsecond durations, and with spot sizes on the order of 50 µm diameter, achieving irradiances at a sample surface exceeding 1 MW/cm2. Localized laser heating has been used to demonstrate laser chemical vapor deposition of Pt, surface melting of silicon, enhanced purity, and resistivity via laser annealing of Au deposits formed by electron beam induced deposition, and in situ secondary electron imaging of laser induced dewetting of Au metal films on SiOx.
Keywords
laser,
microscope,
scanning,
electron
Publication Date
June, 2012
Citation Information
Nick Roberts. "In situ laser processing in a scanning electron microscope"
Journal of Vacuum Science and Technology A
Vol. 30 Iss. 4 (2012)
Available at: http://works.bepress.com/nick_roberts/29/