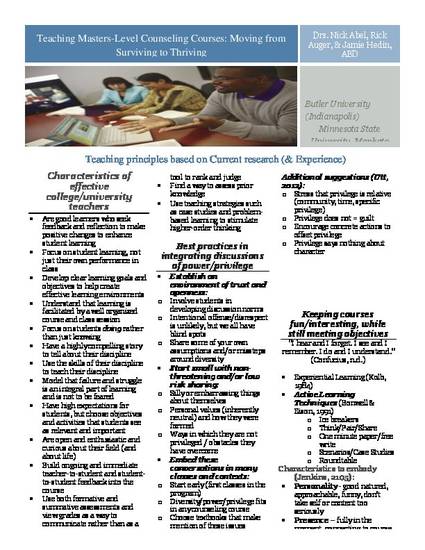 Article
Teaching Masters-Level Counseling Courses: Moving from Surviving to Thriving
Annual Conference of the Association for Counselor Education and Supervision
Document Type
Conference Proceeding
Publication Date
10-1-2015
Additional Publication URL
http://www.acesonline.net/
Abstract
Handout roundtable discussion co-conducted at the annual conference of the Association for Counselor Education and Supervision, Philadelphia, PA. 2015, October.
Rights
This is an electronic copy of a conference handout. Archived with permission. The author(s) reserves all rights.
Citation Information
Nick R. Abel, Rick Auger and Jamie Hedin. "Teaching Masters-Level Counseling Courses: Moving from Surviving to Thriving"
Annual Conference of the Association for Counselor Education and Supervision
(2015) p. 1 - 2
Available at: http://works.bepress.com/nick_abel/20/