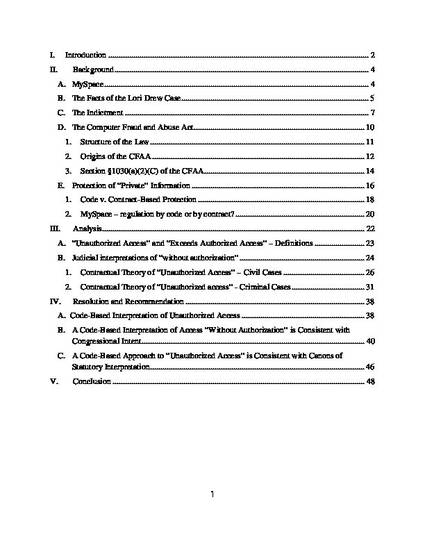 Unpublished Paper
"I Agree" to Criminal Liability: Lori Drew's Prosecution under § 1030(a)(2)(C) of the Computer Fraud and Abuse Act, and Why Every Internet User Should Care
ExpressO (2009)
Abstract
This article argues that Lori Drew's prosecution for cyberbullying under the Computer Fraud and Abuse Act, 18 U.S.C. 1030 et. seq., represents too broad an application of that statute, which was passed by Congress in 1984 as an anti-hacking provision. More fundamentally, it argues that violation of a public website's terms of service should not constitute "unauthorized access" sufficient to trigger criminal liability under the Act. Such an narrow reading is in line with Congressional intent, as well as traditional notions of due process and statutory interpretation.
Publication Date
April 13, 2009
Citation Information
Nicholas R. Johnson. ""I Agree" to Criminal Liability: Lori Drew's Prosecution under § 1030(a)(2)(C) of the Computer Fraud and Abuse Act, and Why Every Internet User Should Care"
ExpressO
(2009)
Available at: http://works.bepress.com/nicholas_johnson/1/