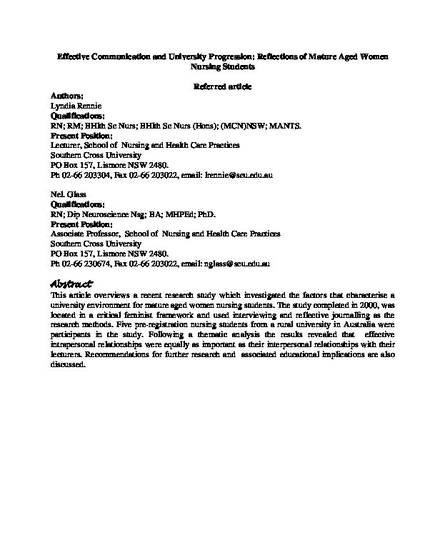 Article
Effective communication and university progression: reflections of mature aged women nursing students
Australian Electronic Journal of Nursing Education
Publication Date
1-1-2001
Peer Reviewed
Peer-Reviewed
Abstract
This article overviews a recent research study which investigated the factors that characterise a university environment for mature aged women nursing students. The study completed in 2000, was located in a critical feminist framework and used interviewing and reflective journalling as the research methods. Five pre-registration nursing students from a rural university in Australia were participants in the study. Following a thematic analysis the results revealed that effective intrapersonal relationships were equally as important as their interpersonal relationships with their lecturers. Recommendations for further research and associated educational implications are also discussed.
Citation Information
Rennie, L & Glass, N 2001, 'Effective communication and university progression: reflections of mature aged women nursing students', Australian Electronic Journal of Nursing Education, vol. 7, no. 2, p. 23.