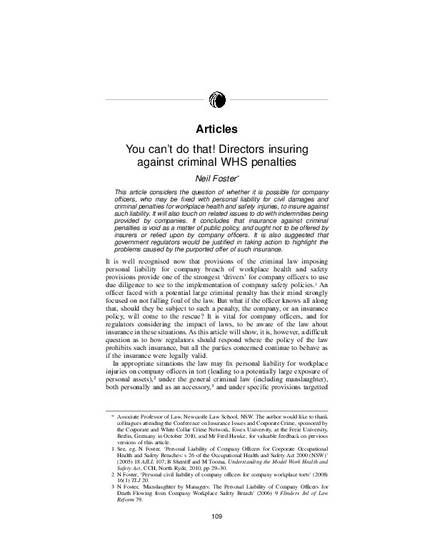 Article
You can't do that! Directors insuring against criminal WHS penalties
Insurance Law Journal (2012)
Abstract
This article considers the question of whether it is possible for company officers, who may be fixed with personal liability for civil damages and criminal penalties for workplace health and safety injuries, to insure against such liability. It will also touch on related issues to do with indemnities being provided by companies. It concludes that insurance against criminal penalties is void as a matter of public policy, and ought not to be offered by insurers or relied upon by company officers. It is also suggested that government regulators would be justified in taking action to highlight the problems caused by the purported offer of such insurance.
Citation Information
Neil J Foster. "You can't do that! Directors insuring against criminal WHS penalties"
Insurance Law Journal
Vol. 23 (2012)
Available at: http://works.bepress.com/neil_foster/58/