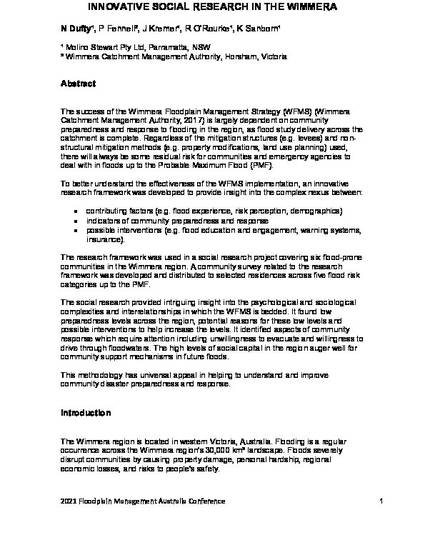 Presentation
Is your floodplain management strategy working? Innovative social research in the Wimmera
2021 Floodplain Management Australia Conference (2021)
Abstract
The success of the Wimmera Floodplain Management Strategy (WFMS) (Wimmera Catchment Management Authority, 2017) is largely dependent on community preparedness and response to flooding in the region, as flood study delivery across the catchment is complete. Regardless of the mitigation structures (e.g. levees) and non-structural mitigation methods (e.g. property modifications, land use planning) used, there will always be some residual risk for communities and emergency agencies to deal with in floods up to the Probable Maximum Flood (PMF).
To better understand the effectiveness of the WFMS implementation, an innovative research framework was developed to provide insight into the complex nexus between:
·        
contributing factors (e.g. flood experience, risk perception, demographics)
·        
indicators of community preparedness and response
·        
possible interventions (e.g. flood education and engagement, warning systems, insurance).
The research framework was used in a social research project covering six flood-prone communities in the Wimmera region. A community survey related to the research framework was developed and distributed to selected residences across five flood risk categories up to the PMF.
The social research provided intriguing insight into the psychological and sociological complexities and interrelationships in which the WFMS is bedded. It found low preparedness levels across the region, potential reasons for these low levels and possible interventions to help increase the levels. It identified aspects of community response which require attention including unwillingness to evacuate and willingness to drive through floodwaters. The high levels of social capital in the region auger well for community support mechanisms in future floods. 
This methodology has universal appeal in helping to understand and improve community disaster preparedness and response.
Keywords
flood,
disaster,
Australia,
community,
preparedness,
response,
resilience
Publication Date
May, 2021
Citation Information
Neil Dufty. "Is your floodplain management strategy working? Innovative social research in the Wimmera"
2021 Floodplain Management Australia Conference
(2021)
Available at: http://works.bepress.com/neil_dufty/69/