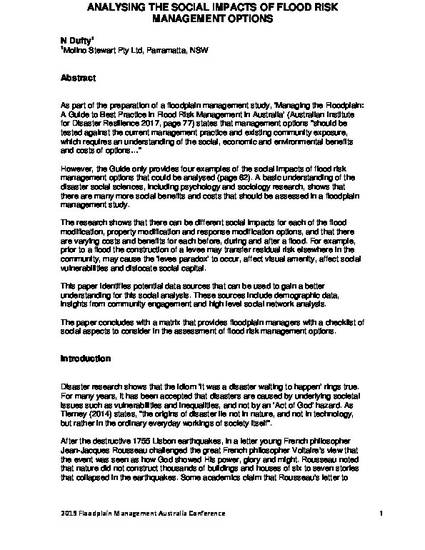 Presentation
Analysing the social aspects of flood risk management options
National Floodplain Management Australia Conference (2019)
Abstract
As part of the preparation of a floodplain management study, 'Managing the Floodplain: A Guide to Best Practice in Flood Risk Management in Australia' (Australian Institute for Disaster Resilience 2017, page 77) states that management options "should be tested against the current management practice and existing community exposure, which requires an understanding of the social, economic and environmental benefits and costs of options…"
However, the Guide only provides four examples of the social impacts of flood risk management options that could be analysed (page 62). A basic understanding of the disaster social sciences, including psychology and sociology research, shows that there are many more social benefits and costs that should be assessed in a floodplain management study.
The research shows that there can be different social impacts for each of the flood modification, property modification and response modification options, and that there are varying costs and benefits for each before, during and after a flood. For example, prior to a flood the construction of a levee may transfer residual risk elsewhere in the community, may cause the 'levee paradox' to occur, affect visual amenity, affect social vulnerabilities and dislocate social capital.  
This paper identifies potential data sources that can be used to gain a better understanding for this social analysis. These sources include demographic data, insights from community engagement and high level social network analysis.
The paper concludes with a matrix that provides floodplain managers with a checklist of social aspects to consider in the assessment of flood risk management options.
Keywords
flood,
disaster,
risk,
social,
mitigation,
community
Publication Date
May 15, 2019
Citation Information
Neil Dufty. "Analysing the social aspects of flood risk management options"
National Floodplain Management Australia Conference
(2019)
Available at: http://works.bepress.com/neil_dufty/64/