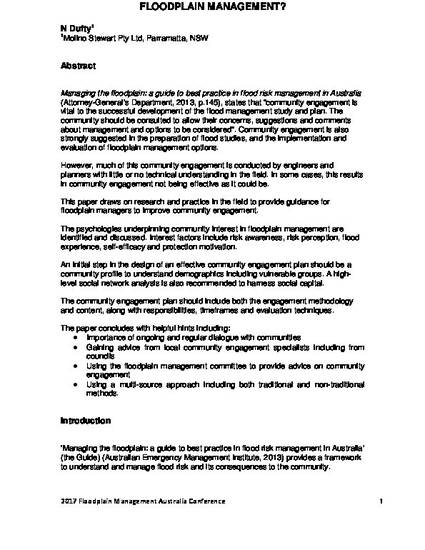 Presentation
How can we improve community engagement for floodplain management?
2017 National Floodplain Management Australia Conference (2017)
Abstract
Managing the floodplain: a guide to best practice in flood risk management in Australia
(Attorney-General's Department, 2013, p.145), states that "community engagement is vital to the successful development of the flood management study and plan. The community should be consulted to allow their concerns, suggestions and comments about management and options to be considered". Community engagement is also strongly suggested in the preparation of flood studies, and the implementation and evaluation of floodplain management options.
However, much of this community engagement is conducted by engineers and planners with little or no technical understanding in the field. In some cases, this results in community engagement not being effective as it could be.
This paper draws on research and practice in the field to provide guidance for floodplain managers to improve community engagement.
The psychologies underpinning community interest in floodplain management are identified and discussed. Interest factors include risk awareness, risk perception, flood experience, self-efficacy and protection motivation.
An initial step in the design of an effective community engagement plan should be a community profile to understand demographics including vulnerable groups. A high-level social network analysis is also recommended to harness social capital.
The community engagement plan should include both the engagement methodology and content, along with responsibilities, timeframes and evaluation techniques.
The paper concludes with helpful hints including:
Importance of ongoing and regular dialogue with communities
Gaining advice from local community engagement specialists including from councils
Using the floodplain management committee to provide advice on community engagement
Using a multi-source approach including both traditional and non-traditional methods. 
Keywords
community,
engagement,
flood,
risk,
disaster
Publication Date
May, 2017
Location
Newcastle, NSW, Australia
Citation Information
Neil Dufty. "How can we improve community engagement for floodplain management?"
2017 National Floodplain Management Australia Conference
(2017)
Available at: http://works.bepress.com/neil_dufty/56/