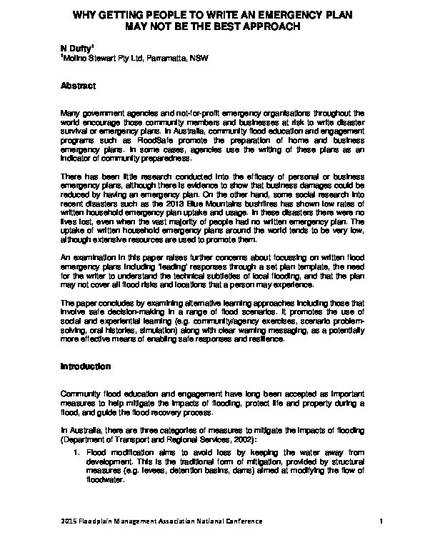 Presentation
Why getting people to write an emergency plan may not be the best approach
2015 Floodplain Management Association National Conference (2015)
Abstract
Many government agencies and not-for-profit emergency organisations throughout the world encourage those community members and businesses at risk to write disaster survival or emergency plans. In Australia, community flood education and engagement programs such as FloodSafe promote the preparation of home and business emergency plans. In some cases, agencies use the writing of these plans as an indicator of community preparedness. There has been little research conducted into the efficacy of personal or business emergency plans, although there is evidence to show that business damages could be reduced by having an emergency plan. On the other hand, some social research into recent disasters such as the 2013 Blue Mountains bushfires has shown low rates of written household emergency plan uptake and usage. In these disasters there were no lives lost, even when the vast majority of people had no written emergency plan. The uptake of written household emergency plans around the world tends to be very low, although extensive resources are used to promote them. An examination in this paper raises further concerns about focussing on written flood emergency plans including 'leading' responses through a set plan template, the need for the writer to understand the technical subtleties of local flooding, and that the plan may not cover all flood risks and locations that a person may experience. The paper concludes by examining alternative learning approaches including those that involve safe decision-making in a range of flood scenarios. It promotes the use of social and experiential learning (e.g. community/agency exercises, scenario problem-solving, oral histories, simulation) along with clear warning messaging, as a potentially more effective means of enabling safe responses and resilience.
Keywords
emergency,
disaster,
education,
engagement,
safety,
community
Publication Date
May, 2015
Citation Information
Neil Dufty. "Why getting people to write an emergency plan may not be the best approach"
2015 Floodplain Management Association National Conference
(2015)
Available at: http://works.bepress.com/neil_dufty/39/