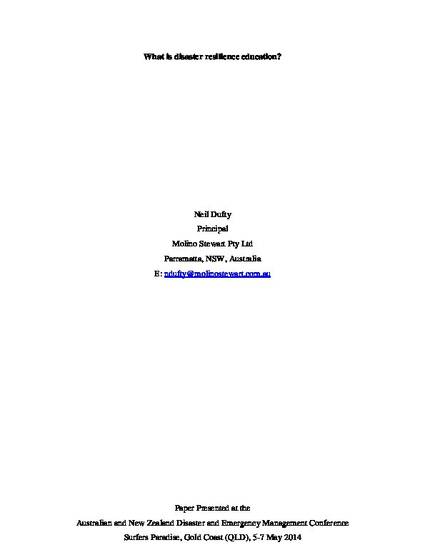 Presentation
What is disaster resilience education?
Australian and New Zealand Disaster and Emergency Management Conference (2014)
Abstract
Community disaster education, communication and engagement (ECE) is an integral component of emergency management in Australia and around the world. Its main goal is to promote public safety and, to a lesser extent, reduce damages. However, many governments around the world, including Australia, aim to also build community disaster resilience, with learning viewed as a critical mechanism. There is therefore a need to examine current community disaster ECE practices with a view to aligning them to the broader goal of disaster resilience. To attempt this, an exploratory research methodology was utilised to examine possible education content and processes that could be used by emergency agencies and other organisations to design plans, programs and activities that build disaster resilience in local communities. The research found that disaster resilience ECE content should not only cover preparedness and response aspects, but also learning about speedy and effective recovery for people, organisations (e.g. businesses) and communities. It found that disaster resilience ECE should also involve learning about the community itself, including how to reduce vulnerabilities and connect communities through social capital formation. As a result of the research, opportunities for disaster resilience ECE were identified in the main learning domains: behavioural, cognitive, affective and social. The findings demonstrated that many current disaster ECE programs are only using limited parts of this learning 'spectrum', although this would be significantly increased by further embracing social media as a disaster resilience learning medium. The research also identified a framework to design disaster resilience ECE programs that can be used for any community. The framework includes guiding principles, 'palettes' from which to choose appropriate learning content and processes, and a series of 'filters' to tailor the programs to specific disaster-impacted communities.
Keywords
education,
disaster,
resilience,
communications,
engagement,
community,
psychology,
social media
Publication Date
May 5, 2014
Citation Information
Neil Dufty. "What is disaster resilience education?"
Australian and New Zealand Disaster and Emergency Management Conference
(2014)
Available at: http://works.bepress.com/neil_dufty/36/