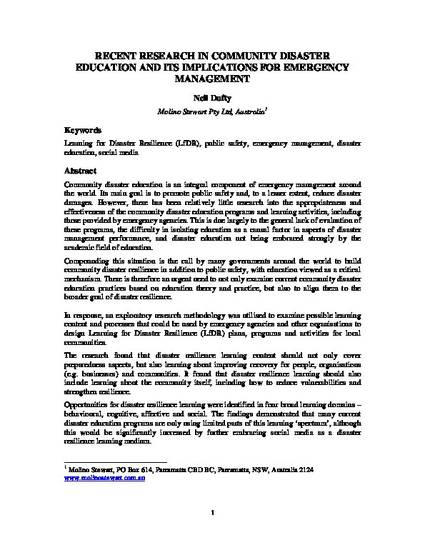 Presentation
Recent research in community disaster education and its implications for emergency management
The International Emergency Management Society (TIEMS) 2013 Annual Conference (2013)
Abstract
Community disaster education is an integral component of emergency management around the world. Its main goal is to promote public safety and, to a lesser extent, reduce disaster damages. However, there has been relatively little research into the appropriateness and effectiveness of the community disaster education programs and learning activities, including those provided by emergency agencies. This is due largely to the general lack of evaluation of these programs, the difficulty in isolating education as a causal factor in aspects of disaster management performance, and disaster education not being embraced strongly by the academic field of education. Compounding this situation is the call by many governments around the world to build community disaster resilience in addition to public safety, with education viewed as a critical mechanism. There is therefore an urgent need to not only examine current community disaster education practices based on education theory and practice, but also to align them to the broader goal of disaster resilience.
In response, an exploratory research methodology was utilised to examine possible learning content and processes that could be used by emergency agencies and other organisations to design Learning for Disaster Resilience (LfDR) plans, programs and activities for local communities. The research found that disaster resilience learning content should not only cover preparedness aspects, but also learning about improving recovery for people, organisations (e.g. businesses) and communities. It found that disaster resilience learning should also include learning about the community itself, including how to reduce vulnerabilities and strengthen resilience. Opportunities for disaster resilience learning were identified in four broad learning domains – behavioural, cognitive, affective and social. The findings demonstrated that many current disaster education programs are only using limited parts of this learning 'spectrum', although this would be significantly increased by further embracing social media as a disaster resilience learning medium.
Keywords
disaster resilience,
learning,
education,
social media,
community,
emergency management
Publication Date
October, 2013
Citation Information
Neil Dufty. "Recent research in community disaster education and its implications for emergency management"
The International Emergency Management Society (TIEMS) 2013 Annual Conference
(2013)
Available at: http://works.bepress.com/neil_dufty/30/