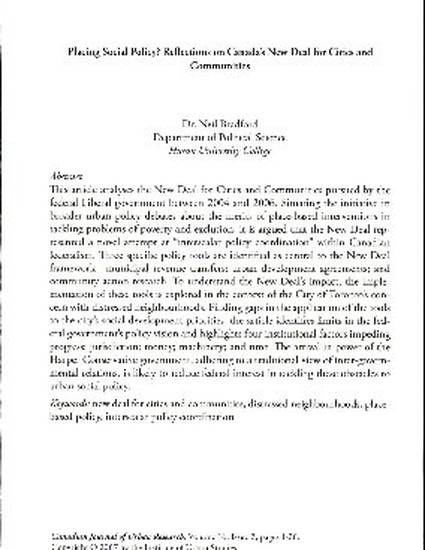 Article
Placing Social Policy? Reflections on Canada's New Deal for Cities and Communities
Canadian Journal of Urban Research (2007)
Abstract
This article analyses the New Deal for Cities and Communities pursued by the federal Liberal government between 2004 and 2006. Situating the initiative in broader urban policy debates about the merits of place-based interventions in tackling problems of poverty and exclusion, it is argued that the New Deal represented a novel attempt at "interscalar policy coordination" within Canadian federalism. Three specific policy tools are identified as central to the New Deal framework-municipal revenue transfers; urban development agreements; and community action research. To understand the New Deal's impact, the implementation of these tools is explored in the context of the City of Toronto's concern with distressed neighbourhoods. Finding gaps in the application of the tools to the city's social development priorities, the article identifies limits in the federal government's policy vision and highlights four institutional factors impeding progress: jurisdiction; money; machinery; and time. The arrival in power of the Harper Conservative government, adhering to a traditional view of inter-governmental relations, is likely to reduce federal interest in tackling these obstacles to urban social policy.
Citation Information
Neil Bradford. "Placing Social Policy? Reflections on Canada's New Deal for Cities and Communities"
Canadian Journal of Urban Research
Vol. 16 Iss. 2 (2007)
Available at: http://works.bepress.com/neil_bradford/35/