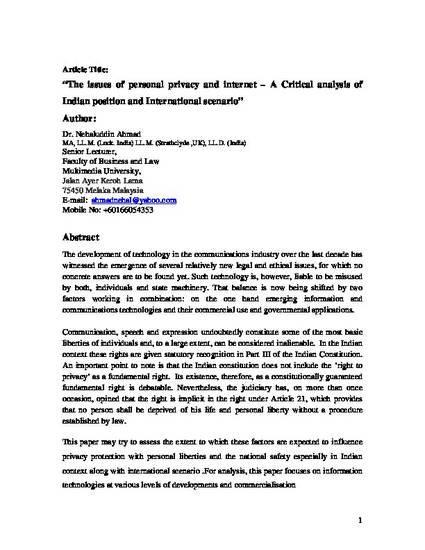 Unpublished Paper
"The issues of personal privacy and internet – A Critical analysis of Indian position and International scenario"
ExpressO (2008)
Abstract
Abstract The development of technology in the communications industry over the last decade has witnessed the emergence of several relatively new legal and ethical issues, for which no concrete answers are to be found yet. Such technology is, however, liable to be misused by both, individuals and state machinery. That balance is now being shifted by two factors working in combination: on the one hand emerging information and communications technologies and their commercial use and governmental applications.
Communication, speech and expression undoubtedly constitute some of the most basic liberties of individuals and, to a large extent, can be considered inalienable. In the Indian context these rights are given statutory recognition in Part III of the Indian Constitution. An important point to note is that the Indian constitution does not include the 'right to privacy' as a fundamental right. Its existence, therefore, as a constitutionally guaranteed fundamental right is debatable. Nevertheless, the judiciary has, on more than once occasion, opined that the right is implicit in the right under Article 21, which provides that no person shall be deprived of his life and personal liberty without a procedure established by law.
This paper may try to assess the extent to which these factors are expected to influence privacy protection with personal liberties and the national safety especially in Indian context along with international scenario .For analysis, this paper focuses on information technologies at various levels of developments and commercialisation
Publication Date
June 29, 2008
Citation Information
Nehaluddin Ahmad. ""The issues of personal privacy and internet – A Critical analysis of Indian position and International scenario""
ExpressO
(2008)
Available at: http://works.bepress.com/nehaluddin_ahmad/1/