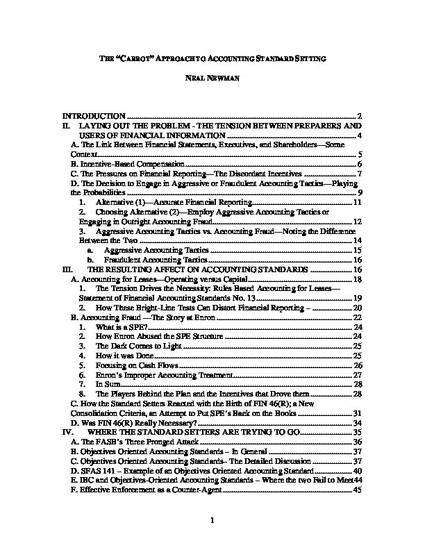 Unpublished Paper
The "Carrot" Approach to Accounting Standard Setting
ExpressO (2007)
Abstract
For years, accounting standard setters have been waging a battle against financial fraud and obfuscated and distorted financial reporting. The standard setters, however, have been steadily losing ground as accounting fraud and obfuscated financial reporting continues to proliferate the public company landscape. The ongoing battle between financial information prepares and regulators has resulted in an accounting and financial reporting regime that is fragmented, overly complex and allows for accounting results that are devoid of economic substance. Poor financial reporting has been deemed to be of such significance, that the Securities and Exchange Commission has formed an advisory committee whose purpose is to reduce the complexity of the United States financial reporting system and make it more "user-friendly".
Will their efforts be successful? This paper contends that their success is contingent upon one important dynamic that, as of yet, has not been effectively addressed. The aspect in question is executive management and their role in the financial reporting process. Corporate management is the faction primarily responsible for the financial reporting of their respective companies. This dynamic can put the interests of those who prepare financial information at odds with its users. For example, an executive's bonus, stock options, or even continued employment may be tied to what's depicted in the financial statements. Accordingly and as a consequence, this dynamic creates incentives for management to distort financial portraits or in many cases, commit accounting fraud. In response, standard setters are forced to draft accounting standards in a "defensive" manner to "reign-in" such executives and their aggressive practices. This article contends that such is the reason for the complicated and complex accounting standards that regulators are attempting to reform.
What is proposed in this paper is an idea that, in theory, will take away this tension between financial information prepares and those that regulate them. The goal here is to implore those involved in this process to take an "outside the box" approach to accounting standard setting and financial reporting. This paper advocates for a unique and unexplored paradigm shift in the accounting and financial reporting arena. Here the case is made for doing away with stock options altogether, and advocates for implementing incentives for accurate financial reporting in its place. The goal is to realign the executive's interests with accurate financial reporting by providing incentives for such behavior. If the true goal in financial reporting is to overhaul the process and make it more "user friendly", such an overhaul requires unconventional means to be successful. This paper builds a case for and explores one such "outside the box" approach.
Keywords
Accounting Standards,
Financial Reporting,
Securities Regulation
Publication Date
September 24, 2007
Citation Information
Neal F Newman. "The "Carrot" Approach to Accounting Standard Setting"
ExpressO
(2007)
Available at: http://works.bepress.com/neal_newman/1/