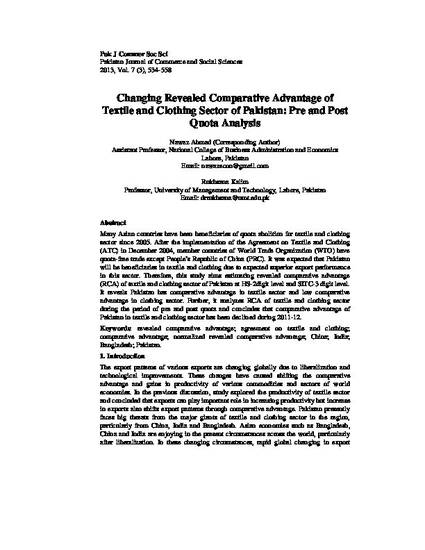 Article
Changing Revealed Comparative Advantage of Textile and Clothing Sector of Pakistan: Pre and Post Quota Analysis
Pakistan Journal of Commerce and Social Sciences (2013)
Abstract
Abstract Many Asian countries have been beneficiaries of quota abolition for textile and clothing sector since 2005. After the implementation of the Agreement on Textile and Clothing (ATC) in December 2004, member countries of World Trade Organization (WTO) have quota-free trade except People's Republic of China (PRC). It was expected that Pakistan will be beneficiaries in textile and clothing due to expected superior export performance in this sector. Therefore, this study aims estimating revealed comparative advantage (RCA) of textile and clothing sector of Pakistan at HS-2digit level and SITC-3 digit level. It reveals Pakistan has comparative advantage in textile sector and low comparative advantage in clothing sector. Further, it analyzes RCA of textile and clothing sector during the period of pre and post quota and concludes that comparative advantage of Pakistan in textile and clothing sector has been declined during 2011-12.
Keywords
revealed comparative advantage; agreement on textile and clothing; comparative advantage; normalized revealed comparative advantage; China; India; Bangladesh; Pakistan
Publication Date
Fall October 16, 2013
Citation Information
Nawaz Ahmad. "Changing Revealed Comparative Advantage of Textile and Clothing Sector of Pakistan: Pre and Post Quota Analysis"
Pakistan Journal of Commerce and Social Sciences
Vol. 7 Iss. 3 (2013)
Available at: http://works.bepress.com/nawaz_ahmad/5/