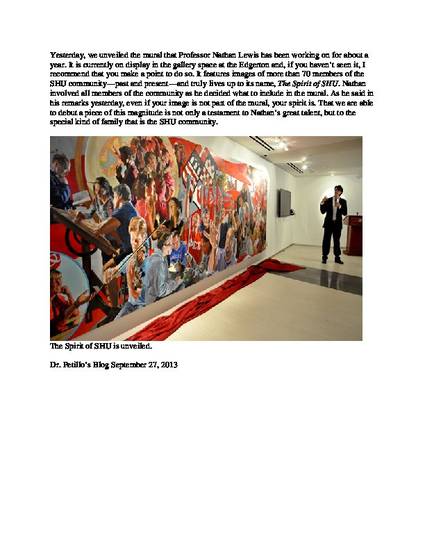 Popular Press
The Spirit of SHU
Dr. Petillo's Blog (2013)
Abstract
"Yesterday, we unveiled the mural that Professor Nathan Lewis has been working on for about a year. It is currently on display in the gallery space at the Edgerton and, if you haven't seen it, I recommend that you make a point to do so. It features images of more than 70 members of the SHU community—past and present—and truly lives up to its name, The Spirit of SHU. Nathan involved all members of the community as he decided what to include in the mural. As he said in his remarks yesterday, even if your image is not part of the mural, your spirit is. That we are able to debut a piece of this magnitude is not only a testament to Nathan's great talent, but to the special kind of family that is the SHU community"--Dr. Petillo's Blog, September 27, 2013.
Keywords
Mural,
Sacred Heart University,
History,
50th anniversary,
Nathan Lewis,
Spirit of SHU
Publication Date
September 27, 2013
Citation Information
Nathan Lewis. "The Spirit of SHU"
Dr. Petillo's Blog
(2013)
Available at: http://works.bepress.com/nathan_lewis/3/