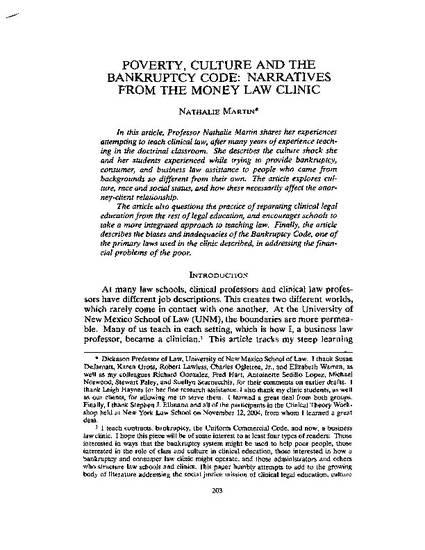 Article
Poverty, Culture and the Bankruptcy Code: Narratives from the Money Law Clinic
Clinical Law Review
Publication Date
1-1-2005
Abstract
In this article, Professor Nathalie Martin shares her experiences attempting to teach clinical law, after many years of experience teaching in the doctrinal classroom. She describes the culture shock she and her students experienced while trying to provide bankruptcy, consumer, and business law assistance to people who came from backgrounds so different from their own. The article explores culture, race and social status, and how these necessarily affect the attorney-client relationship. The article also questions the practice of separating clinical legal education from the rest of legal education, and encourages schools to take a more integrated approach to teaching law. Finally, the article describes the biases and inadequacies of the Bankruptcy Code, one of the primary laws used in the clinic described, in addressing the financial problems of the poor.
Citation Information
Nathalie Martin. "Poverty, Culture and the Bankruptcy Code: Narratives from the Money Law Clinic"
Clinical Law Review
Vol. 12 (2005) p. 203
Available at: http://works.bepress.com/nathalie_martin/25/