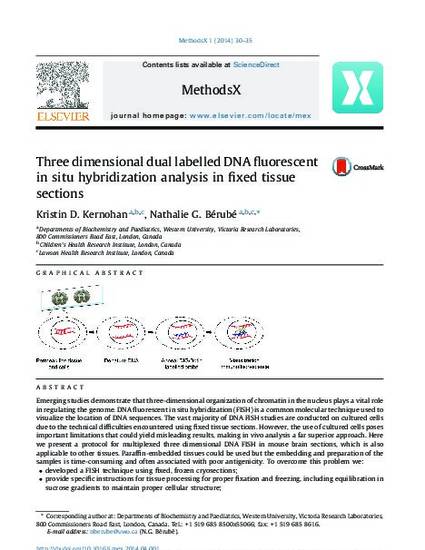 Article
Three Dimensional Dual Labelled DNA Fluorescent In Situ Hybridization Analysis in Fixed Tissue Sections
MethodsX
Publication Date
5-1-2014
URL with Digital Object Identifier
doi: 10.1016/j.mex.2014.04.001
Abstract
Emerging studies demonstrate that three-dimensional organization of chromatin in the nucleus plays a vital role in regulating the genome. DNA fluorescent in situ hybridization (FISH) is a common molecular technique used to visualize the location of DNA sequences. The vast majority of DNA FISH studies are conducted on cultured cells due to the technical difficulties encountered using fixed tissue sections. However, the use of cultured cells poses important limitations that could yield misleading results, making in vivo analysis a far superior approach. Here we present a protocol for multiplexed three dimensional DNA FISH in mouse brain sections, which is also applicable to other tissues. Paraffin-embedded tissues could be used but the embedding and preparation of the samples is time-consuming and often associated with poor antigenicity. To overcome this problem we:•developed a FISH technique using fixed, frozen cryosections;•provide specific instructions for tissue processing for proper fixation and freezing, including equilibration in sucrose gradients to maintain proper cellular structure;•include optimized permeabilization and washing steps to achieve specific signal and to limit background fluorescence in tissue sections.
Citation Information
Kristin D Kernohan and Nathalie G. Bérubé. "Three Dimensional Dual Labelled DNA Fluorescent In Situ Hybridization Analysis in Fixed Tissue Sections"
MethodsX
Vol. 1 (2014) p. 30 - 35
Available at: http://works.bepress.com/nathalie-berube/24/