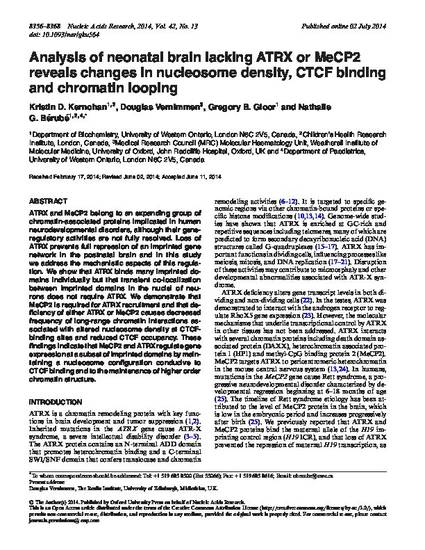 Article
Analysis of Neonatal Brain Lacking ATRX or MeCP2 Reveals Changes in Nucleosome Density, CTCF Binding and Chromatin Looping
Nucleic Acids Research
Publication Date
7-1-2014
URL with Digital Object Identifier
doi: 10.1093/nar/gku564
Abstract
ATRX and MeCP2 belong to an expanding group of chromatin-associated proteins implicated in human neurodevelopmental disorders, although their gene-regulatory activities are not fully resolved. Loss of ATRX prevents full repression of an imprinted gene network in the postnatal brain and in this study we address the mechanistic aspects of this regulation. We show that ATRX binds many imprinted domains individually but that transient co-localization between imprinted domains in the nuclei of neurons does not require ATRX. We demonstrate that MeCP2 is required for ATRX recruitment and that deficiency of either ATRX or MeCP2 causes decreased frequency of long-range chromatin interactions associated with altered nucleosome density at CTCF-binding sites and reduced CTCF occupancy. These findings indicate that MeCP2 and ATRX regulate gene expression at a subset of imprinted domains by maintaining a nucleosome configuration conducive to CTCF binding and to the maintenance of higher order chromatin structure.
Citation Information
Kristin D Kernohan, Douglas Vernimmen, Gregory B Gloor and Nathalie G. Bérubé. "Analysis of Neonatal Brain Lacking ATRX or MeCP2 Reveals Changes in Nucleosome Density, CTCF Binding and Chromatin Looping"
Nucleic Acids Research
Vol. 42 Iss. 13 (2014) p. 8356 - 8368
Available at: http://works.bepress.com/nathalie-berube/19/