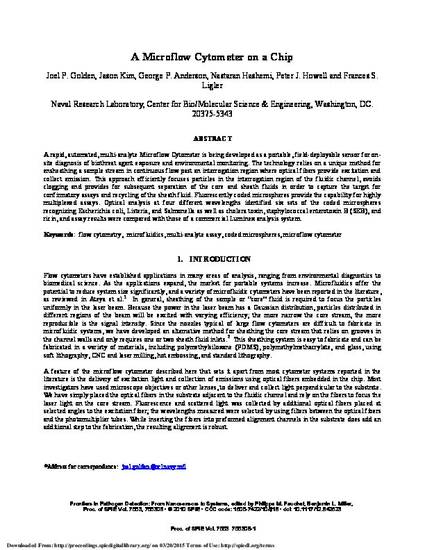 Article
A microflow cytometer on a chip
Frontiers in Pathogen Detection: From Nanosensors to Systems (2010)
Abstract
A rapid, automated, multi-analyte Microflow Cytometer is being developed as a portable, field-deployable sensor for onsite diagnosis of biothreat agent exposure and environmental monitoring. The technology relies on a unique method for ensheathing a sample stream in continuous flow past an interrogation region where optical fibers provide excitation and collect emission. This approach efficiently focuses particles in the interrogation region of the fluidic channel, avoids clogging and provides for subsequent separation of the core and sheath fluids in order to capture the target for confirmatory assays and recycling of the sheath fluid. Fluorescently coded microspheres provide the capability for highly multiplexed assays. Optical analysis at four different wavelengths identified six sets of the coded microspheres recognizing Escherichia coli, Listeria, and Salmonella as well as cholera toxin, staphylococcal enterotoxin B (SEB), and ricin, and assay results were compared with those of a commercial Luminex analysis system.
Publication Date
February 25, 2010
Citation Information
Joel P. Golden, Jason Kim, George P. Anderson, Nicole N. Hashemi, et al.. "A microflow cytometer on a chip"
Frontiers in Pathogen Detection: From Nanosensors to Systems
(2010)
Available at: http://works.bepress.com/nastaran_hashemi/14/