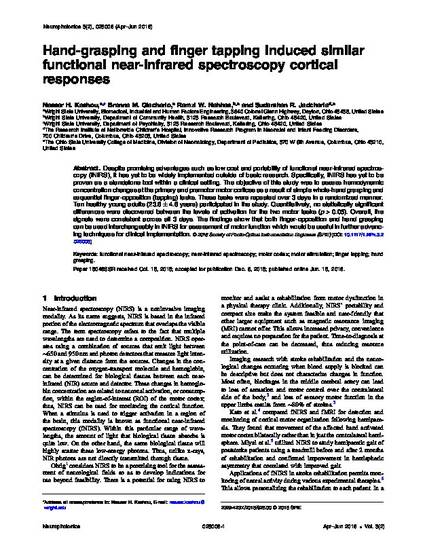 Article
Hand-Grasping and Finger Tapping Induced Similar Functional Near-Infrared Spectroscopy Cortical Responses
Neurophotonics
Publication Date
1-1-2016
Abstract
Despite promising advantages such as low cost and portability of functional near-infrared spectroscopy (fNIRS), it has yet to be widely implemented outside of basic research. Specifically, fNIRS has yet to be proven as a standalone tool within a clinical setting. The objective of this study was to assess hemodynamic concentration changes at the primary and premotor motor cortices as a result of simple whole-hand grasping and sequential finger-opposition (tapping) tasks. These tasks were repeated over 3 days in a randomized manner. Ten healthy young adults (23.8 4.8 years) participated in the study. Quantitatively, no statistically significant differences were discovered between the levels of activation for the two motor tasks (p > 0.05). Overall, the signals were consistent across all 3 days. The findings show that both finger-opposition and hand grasping can be used interchangeably in fNIRS for assessment of motor function which would be useful in further advancing techniques for clinical implementation.
DOI
http://dx.doi.org/10.1117/1.NPh.3.2.025006
Citation Information
Nasser H. Kashou et al., "Hand-Grasping and Finger Tapping Induced Similar Functional Near-Infrared Spectroscopy Cortical Responses," Neurophotonics, 3 (2) 025006, (2016).