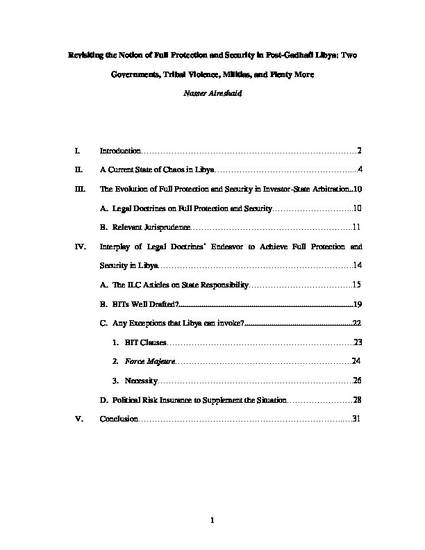 Article
Revisiting the Notion of Full Protection and Security of Foreign Direct Investments in Post-Gadhafi Libya: Two Governments, Tribal Violence, Militias, and Plenty More
Florida Journal of International Law (2016)
Abstract
The escalating violence and deteriorating conditions in today's Libya have questioned the very likelihood of the survival of foreign investments there. Deemed an oil-producing hub, many oil concessions have been granted to foreign investors in Libya. The challenge that follows is how to legally ensure the full protection and security of investors. This notion is tested in the post-Gadhafi Libya situation in the context of a two-government state, where militias with extremist ideologies in most instances, defy an internationally recognized government and take control over Libyan territories. Such territories contain oil terminals, which leads to a partial or complete disruption of the exploration and exploitation activities. This article attempts to discuss the challenges the notion of full protection and security faces in current day Libya, emphasizing its possible application in a balanced manner. This would mean taking into account both the interests of the investors on the one hand, and the Libyan host state on the other. The question that remains, who represents this host state?
Keywords
Full Protection and Security,
International Humanitarian Law,
Investor-state Arbitration,
Libya,
Post-Conflict
Publication Date
Spring April, 2016
DOI
http://heinonline.org/HOL/Page?handle=hein.journals/fjil28&div=6&g_sent=1&collection=journals
Citation Information
Nasser A Alreshaid. "Revisiting the Notion of Full Protection and Security of Foreign Direct Investments in Post-Gadhafi Libya: Two Governments, Tribal Violence, Militias, and Plenty More"
Florida Journal of International Law
Vol. 28 Iss. 1 (2016) p. 63 - 86
Available at: http://works.bepress.com/nasser_alreshaid/1/