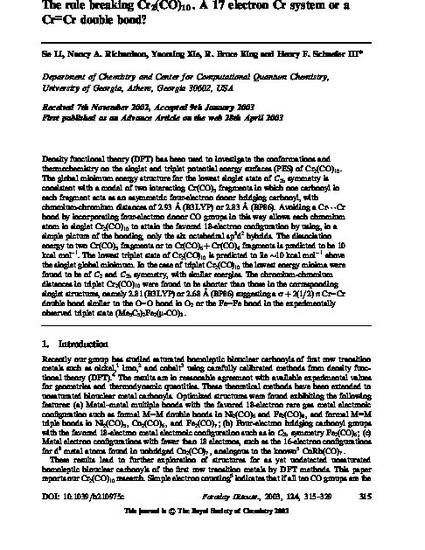 Article
The Rule Breaking Cr2(CO)10. A 17 Electron System or a Cr=Cr Double Bond?
Faculty Publications and Presentations
Publication Date
1-1-2003
Abstract
Density functional theory (DFT) has been used to investigate the conformations and thermochemistry on the singlet and triplet potential energy surfaces (PES) of Cr2(CO)10 . The global minimum energy structure for the lowest singlet state of C2h symmetry is consistent with a model of two interacting Cr(CO)5 fragments in which one carbonyl in each fragment acts as an asymmetric four-electron donor bridging carbonyl, with chromium-chromium distances of 2.93 A ˚ (B3LYP) or 2.83 A ˚ (BP86). Avoiding a Cr…Cr bond by incorporating four-electron donor CO groups in this way allows each chromium atom in singlet Cr2(CO)10 to attain the favored 18-electron configuration by using, in a simple picture of the bonding, only the six octahedral sp3d2 hybrids. The dissociation energy to two Cr(CO)5 fragments or to Cr(CO)6+Cr(CO)4 fragments is predicted to be 10 kcal mol_1. The lowest triplet state of Cr2(CO)10 is predicted to lie _10 kcal mol_1 above the singlet global minimum. In the case of triplet Cr2(CO)10 the lowest energy minima were found to be of C2 and C2h symmetry, with similar energies. The chromium-chromium distances in triplet Cr2(CO)10 were found to be shorter than those in the corresponding singlet structures, namely 2.81 (B3LYP) or 2.68 A ˚ (BP86) suggesting a s+2(1/2) p Cr=Cr double bond similar to the O=O bond in O2 or the Fe=Fe bond in the experimentally observed triplet state (Me5C5)2Fe2(m-CO)3 .
Citation Information
Se Li, Nancy A. Richardson, Yaoming Xie, R. Bruce King, et al.. "The Rule Breaking Cr2(CO)10. A 17 Electron System or a Cr=Cr Double Bond?" (2003)
Available at: http://works.bepress.com/nancy_richardson/3/