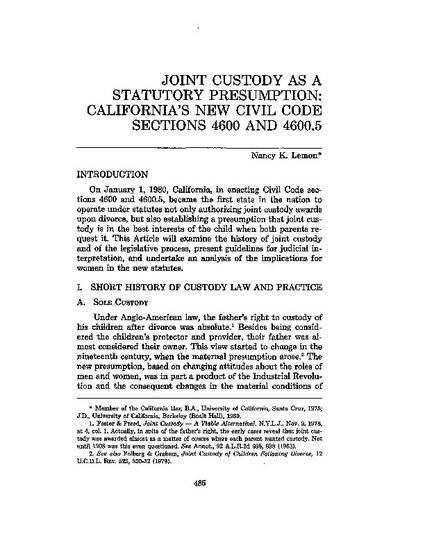 Article
Joint Custody As a Statutory Presumption: California's New Civil Code Sections 4600 and 4600.5
Golden Gate University Law Review
Abstract
On January 1, 1980, California, in enacting Civil Code sections 4600 and 4600.5, became the first state in the nation to operate under statutes not only authorizing joint custody awards upon divorce, but also establishing a presumption that joint custody is in the best interests of the child when both parents request it. This Article will examine the history of joint custody and of the legislative process, present guidelines for judicial interpretation, and undertake an analysis of the implications for women in the new statutes.
Citation Information
Nancy K. Lemon. "Joint Custody As a Statutory Presumption: California's New Civil Code Sections 4600 and 4600.5"
Available at: http://works.bepress.com/nancy_lemon/1/