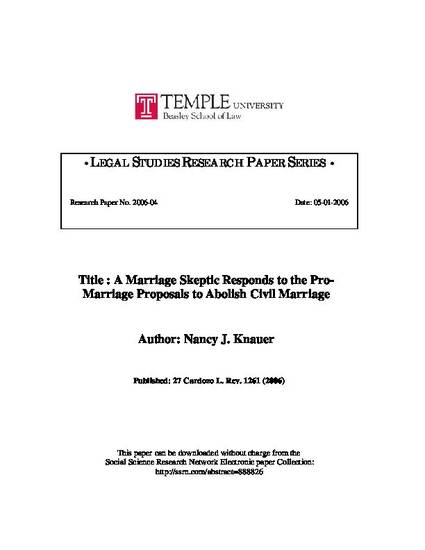 Article
A Marriage Skeptic Responds to the Pro-Marriage Proposals to Abolish Civil Marriage
Cardozo Law Review (2006)
Abstract
This essay responds to the pro-marriage proposals to abolish civil marriage presented by Professors Crane and Zelinsky. As a marriage skeptic, I do not share their unwavering support of marriage, but there are numerous points of agreement. I agree with Professor Zelinsky that a vision of a world without civil marriage is an important metric against which to evaluate public policy proposals. In addition, I find quite compelling the notion that a private deregulated marriage regime would promote a more mindful partnership where expectations were express, responsibilities were clear, and the terms were tailor-made for the particular couple. Finally, I understand, albeit from a different perspective, Professor Crane's caution regarding the threat that a majoritarian definition of marriage can pose to liberty interests. Professor Zelinsky starts his argument with a bold statement of institutional choice: the state should cede its monopoly over marriage in favor of a deregulated market where marriage will be strengthened as a result of robust competition. He does not follow this assertion with a detailed comparative institutional analysis, but instead bolsters this strong market preference with two forceful pragmatic arguments: 1) deregulation would reflect cultural and legal reality because the rules governing civil marriage are increasingly applied to unmarried couples, and 2) deregulation would diffuse a particularly divisive political question with a neutral solution. Leaving aside the normative claims regarding the desirability of marriage and the superiority of the market, this Essay responds primarily to the pragmatic legs of Professor Zelinsky's argument. Both claims rest on an overly optimistic view of the current status of same-sex relationships; a view that misapprehends the extent of the disabilities imposed on same-sex couples and the nature of the objections against same-sex marriage. Left untested, I worry that the combined logic of these two claims risks trivializing the ongoing struggle for the legal recognition of same-sex relationships. The goal of the Essay is to help explain the urgency with which some advocate for equal marriage rights. Isolated instances where an unmarried partner has no legal recourse or is rendered invisible by the crushing lack of uniformity in relationship recognition loom very large in my world. To a disinterested commentator, however, these instances may appear as inevitable loose ends in an evolutionary project leading to ever greater protections. To me, however, they underscore the central fragility of same-sex relationships and the cost imposed on those who live outside marriage.
Keywords
same-sex marriage,
domestic partnership,
civil union,
marriage,
LGBT,
gay,
lesbian,
homosexuality,
gay marriage,
marriage equality,
civil marriage,
culture war,
surviving partner,
hospital visitation,
DOMA,
Defense of Marriage Act
Citation Information
Nancy J. Knauer. "A Marriage Skeptic Responds to the Pro-Marriage Proposals to Abolish Civil Marriage"
Cardozo Law Review
Vol. 27 (2006)
Available at: http://works.bepress.com/nancy_knauer/8/