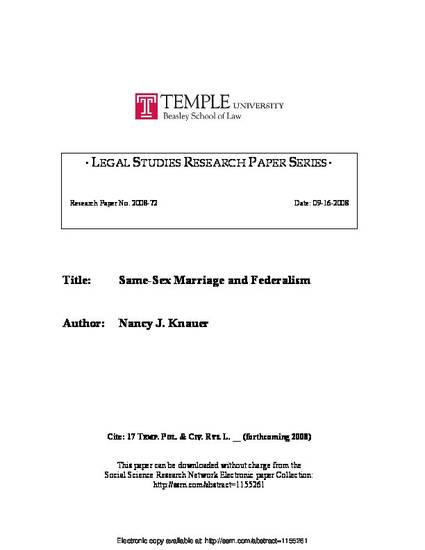 Article
Same-Sex Marriage and Federalism
Temple Journal of Political & Civil Rights (2008)
Abstract
The increasing willingness of states to recognize same-sex relationships illustrates the central theme of this Symposium: federalism provides states the freedom to experiment with novel solutions to pressing social issues. The development of progressive policies seems to bear out Justice Brandeis' optimistic vision of federalism where "a single courageous State may, if its citizens choose, serve as a laboratory; and try novel social and economic experiments without risk to the rest of the country." With respect to same-sex relationships, however, state level reform efforts have not been uniformly progressive. To the contrary, the vast majority of these efforts prohibit the legal recognition of same-sex relationships and, in many instances, have been downright hostile to same-sex couples and their families. This widespread anti-marriage and anti-recognition sentiment should serve as a valuable reminder that there is nothing inherently progressive about state-level attempts to address social issues. To the contrary, the mantle of federalism has been used to justify some of this country's most ignoble legal practices, specifically the Jim Crow laws. Federalism is an institutional alternative; it is not necessarily a political ideology. Federalism can facilitate both a progressive and a conservative impulse, and, in the case of same-sex relationships it does both. The Essay makes three observations concerning the current legal status of same-sex relationships and the inadequacy of state and local reform measures to secure broad based minority rights. Part I of this Essay maps the current legal status of same-sex relationships and notes that, despite considerable gains, state level reform has been designed largely to deny legal recognition for same-sex couples. Part II establishes that federalism offers, at best, an imperfect institutional choice for those seeking broad based minority rights because state level protections currently are not portable and are particularly vulnerable to being overturned through majoritarian measures such as citizens' initiatives. Finally, Part III explores the human cost of the existing lack of uniformity among the states regarding the recognition of same-sex relationships. The confusing and conflicting status of same-sex relationships weighs heavily on same-sex couples. Four out of five same-sex couples live in jurisdictions without relationship protection. These partners remain legal strangers to one another with no reliable way to designate their partners as family. The one in five couples who reside in a jurisdiction with relationship recognition enjoy a certain level of protection within the borders of their own state, but must travel at their own risk.
Keywords
LGBT,
gay,
lesbian,
same-sex marriage,
family law. federalism,
domestic partner,
civil union,
domestic partnership
Citation Information
Nancy J. Knauer.
Same-Sex Marriage and Federalism
, 17
Temple Journal of Political & Civil Rights
421 (2008). Available at: http://works.bepress.com/nancy_knauer/4