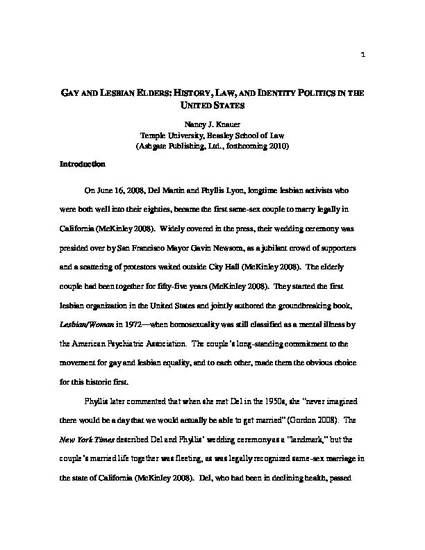 Book
Gay and Lesbian Elders: History, Law, and Identity Politics in the United States
(2010)
Abstract
The approximately two million gay and lesbian elders in the United States are an underserved and understudied population. At a time when gay men and lesbians enjoy an unprecedented degree of social acceptance and legal protection, many elders face the daily challenges of aging isolated from family, detached from the larger gay and lesbian community, and ignored by mainstream aging initiatives. Drawing on materials from law, history, and social theory, this book integrates practical proposals for reform with larger issues of sexuality and identity. Beginning with a summary of existing demographic data and offering a historical overview of pre-Stonewall views of homosexuality, author Nancy J. Knauer goes on to address the invisibility of this community. She examines the multiple double binds central to their identity formation, including ageism among gays and lesbians and homophobia among seniors. Further, the book focuses on specific legal concerns such as estate planning, housing, discrimination, and financial insecurity, and how they impact this community uniquely. Integrating theory with practical questions of policy, and advancing a new understanding of the construction of sexuality and identity, this book advocates meaningful new reforms designed to ensure equity and dignity in aging regardless of sexual orientation.
Keywords
gay elders,
LGBT elders,
LGBT seniors,
Stonewall,
homophile,
identity politics,
same sex relationships,
same sex marriage,
chosen family,
cultural competency,
anti-bullying,
elder law,
aging policy,
homosexuality,
ageism,
caregiving,
hompohobia,
traditional values,
cuture war
Publication Date
Winter 2010
Publisher
Ashgate Publishing, Ltd.
Citation Information
Nancy J. Knauer. Gay and Lesbian Elders: History, Law, and Identity Politics in the United States. (2010)
Available at: http://works.bepress.com/nancy_knauer/24/