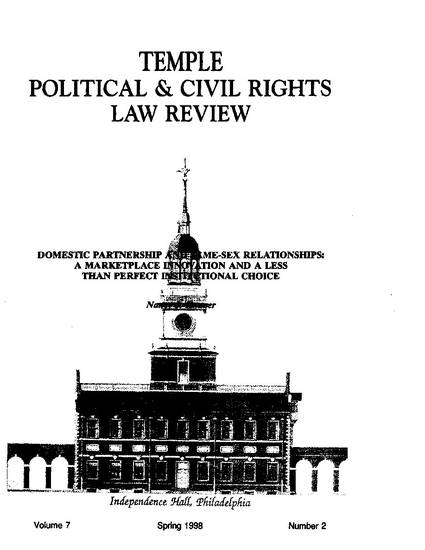 Article
Domestic Partnership and Same-Sex Relationships: a Marketplace Innovation and a Less Than Perfect Institutional Choice
Temple Political & Civil Rights Law Review (1998)
Abstract
The struggle for the recognition and protection of same-sex relationships is at the forefront of the contemporary gay and lesbian civil rights agenda. Whereas the push for same-sex marriage and parenting rights has met with mixed results in the courts and the legislatures, an impressive array of organizations, including Fortune 500 companies, colleges, nonprofit corporations, and municipalities, now extend benefits to the same-sex partners of their employees. This level of success raises a provocative question regarding the potential role of institutional employers in the larger on the agenda for progressive social change. Domestic partnership benefits are a creature of the marketplace. The term domestic partnership originally described a type of relationship that an employer chose to recognize as equivalent to marriage for the purposes of extending employee benefits otherwise reserved for the spouses of employees. Market-based rights such as domestic partnership benefits are limited both with regard to the types of benefits conferred and those eligible to participate in such benefits. These same limitations would not apply to same-sex marriage or a public-regarding form of domestic partnership mandated by judicial decision or legislative action. Given the inherent limitations in market-based rights, it is curious that the broader movement for the recognition and protection of same-sex relationships has placed so much stock in the attainment of benefits that are restricted to those gay men and lesbians who can purchase them. Utilizing comparative institutional choice, this Essay examines the different ways pro-gay advocates articulate the overriding goal of securing the recognition and protection of same-sex relationships and acknowledges that the best institutional alternatives may not be politically feasible. It provides a strategic assessment of the relief available in the alternative institutional settings and offers an explanation for the continued emphasis on domestic partnership benefits despite their limited scope and portability.
Keywords
marriage equality,
same-sex marriage,
gay marriage,
history of same-sex marriage,
civil union,
domestic partnership,
same-sex relationships,
same-sex couples,
homosexuality,
gay,
lesbian,
LGBT,
comparative institutional analysis,
institutional choice
Citation Information
Nancy J. Knauer. "Domestic Partnership and Same-Sex Relationships: a Marketplace Innovation and a Less Than Perfect Institutional Choice"
Temple Political & Civil Rights Law Review
Vol. 7 (1998)
Available at: http://works.bepress.com/nancy_knauer/16/