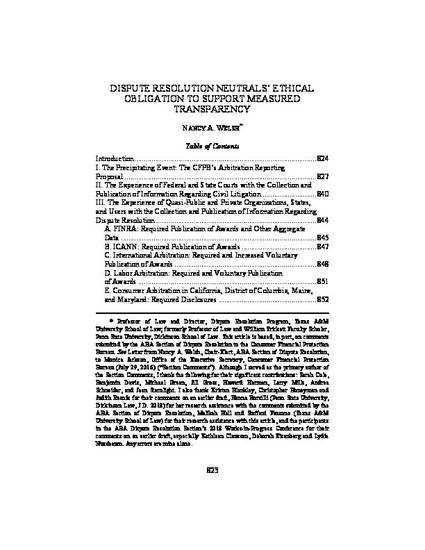 Article
Dispute Resolution Neutrals' Ethical Obligation to Support Measured Transparency
Oklahoma Law Review
Abstract
In 2016, the Consumer Financial Protection Bureau (CFPB) issued proposed rules that would have brought substantial transparency to mandatory pre-dispute consumer arbitration. In particular, the CFPB proposed to require regulated providers of financial products and services to report to the CFPB regarding their use and the outcomes of arbitrations conducted pursuant to arbitration clauses, and further, the CFPB proposed to make such information public (with appropriate redactions). Although Congress and the President ultimately annulled the CFPB's proposed rule, its introduction revealed the need for dispute resolution neutrals to support bringing "measured transparency" to private dispute resolution. To place the CFPB's proposal in context, this Article draws from the analysis conducted by the ABA Section of Dispute Resolution and examines the transparency that (1) federal and state courts provide regarding their court filings and outcomes; (2) some states, some federal agencies, and some domestic and international dispute resolution organizations now require or provide regarding the use and outcomes of arbitration (and to a lesser degree, mediation); (3) some users of dispute resolution achieve through "self-help" initiatives; and (4) some commentators have proposed for online dispute resolution. Ultimately, based on this analysis, the ABA Section of Dispute Resolution chose to support the CFPB's proposed rules regarding transparency in order to protect the integrity of arbitration.
The Article then turns to dispute resolution neutrals' ethical obligation to support the integrity of their processes. Because there are proposals to revise the Model Standards of Conduct for Mediators, the article focuses on mediators' ethical obligations. Contracts of adhesion increasingly include mandatory pre-dispute consumer mediation clauses in the same manner that they include arbitration clauses. Many courts order the use of mediation, and increasingly, statutes require mediation. The Article urges that mediators should have an ethical obligation to support measured transparency, particularly when (1) mediations are mandated by courts, legislatures, or contracts of adhesion and (2) the resulting mediated settlement agreements will be subject to only narrow and deferential judicial review or are granted expedited judicial enforcement. The Article concludes by proposing the creation of a set of customized Model Standards for "imposed mediation."
Citation Information
Nancy A. Welsh. "Dispute Resolution Neutrals' Ethical Obligation to Support Measured Transparency"
Oklahoma Law Review
Vol. 71 Iss. 3 (2019) p. 823 - 884
Available at: http://works.bepress.com/nancy-welsh/67/