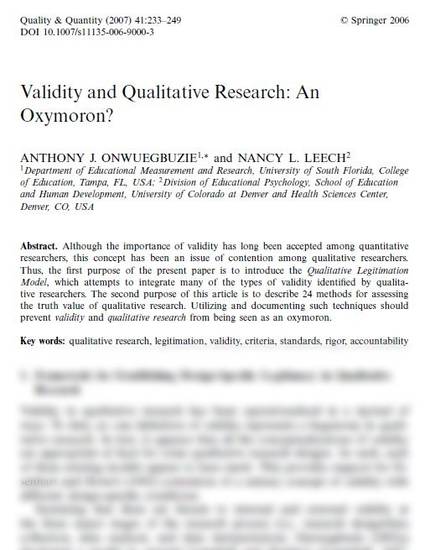 Article
Validity and Qualitative Research: An Oxymoron?
RSEM Faculty Publications
Publication Date
1-1-2006
Abstract
Although the importance of validity has long been accepted among quantitative researchers, this concept has been an issue of contention among qualitative researchers. Thus, the first purpose of the present paper is to introduce the Qualitative Legitimation Model, which attempts to integrate many of the types of validity identified by qualitative researchers. The second purpose of this article is to describe 24 methods for assessing the truth value of qualitative research. Utilizing and documenting such techniques should prevent validity and qualitative research from being seen as an oxymoron.
Citation Information
Anthony J. Onwuegbuzie and Nancy L. Leech. "Validity and Qualitative Research: An Oxymoron?" (2006)
Available at: http://works.bepress.com/nancy-leech/6/