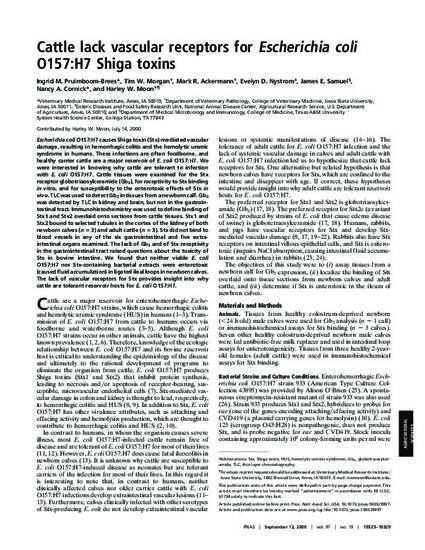 Presentation
Cattle lack vascular receptors for Escherichia coli O157:H7 Shiga toxins
Proceedings of the National Academy of Sciences
Publication Date
9-12-2000
DOI
10.1073/pnas.190329997
Abstract
Escherichia coli O157:H7 causes Shiga toxin (Stx)-mediated vascular damage, resulting in hemorrhagic colitis and the hemolytic uremic syndrome in humans. These infections are often foodborne, and healthy carrier cattle are a major reservoir of E. coli O157:H7. We were interested in knowing why cattle are tolerant to infection with E. coli O157:H7. Cattle tissues were examined for the Stx receptor globotriaosylceramide (Gb3), for receptivity to Stx binding in vitro, and for susceptibility to the enterotoxic effects of Stx in vivo. TLC was used to detect Gb3 in tissues from a newborn calf. Gb3 was detected by TLC in kidney and brain, but not in the gastrointestinal tract. Immunohistochemistry was used to define binding of Stx1 and Stx2 overlaid onto sections from cattle tissues. Stx1 and Stx2 bound to selected tubules in the cortex of the kidney of both newborn calves (n = 3) and adult cattle (n = 3). Stx did not bind to blood vessels in any of the six gastrointestinal and five extraintestinal organs examined. The lack of Gb3 and of Stx receptivity in the gastrointestinal tract raised questions about the toxicity of Stx in bovine intestine. We found that neither viable E. coli O157:H7 nor Stx-containing bacterial extracts were enterotoxic (caused fluid accumulation) in ligated ileal loops in newborn calves. The lack of vascular receptors for Stx provides insight into why cattle are tolerant reservoir hosts for E. coli O157:H7.
Rights
Works produced by employees of the U.S. Government as part of their official duties are not copyrighted within the U.S. The content of this document is not copyrighted.
File Format
application/pdf
Citation Information
Ingrid M. Pruimboom-Brees, Tim W. Morgan, Mark R. Ackermann, Evelyn D. Nystrom, et al.. "Cattle lack vascular receptors for Escherichia coli O157:H7 Shiga toxins"
Proceedings of the National Academy of Sciences
Vol. 97 Iss. 19 (2000) p. 10325 - 10329
Available at: http://works.bepress.com/nancy-cornick/7/