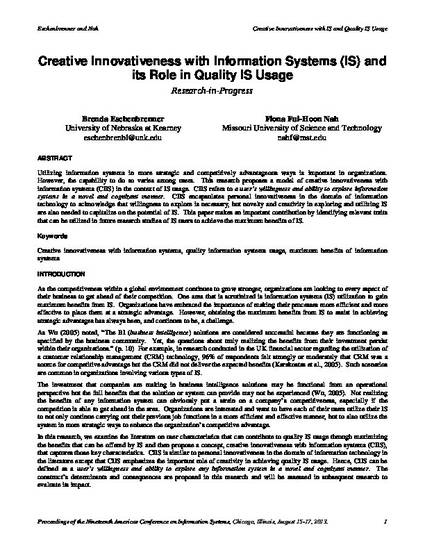 Article
Creative Innovativeness with Information Systems (IS) and its Role in Quality IS Usage
AMCIS 2013 Proceedings
Paper Type
Research-in-Progress Paper
Abstract
Utilizing information systems in more strategic and competitively advantageous ways is important in organizations. However, the capability to do so varies among users. This research proposes a model of creative innovativeness with information systems (CIIS) in the context of IS usage. CIIS refers to a user's willingness and ability to explore information systems in a novel and cognizant manner. CIIS encapsulates personal innovativeness in the domain of information technology to acknowledge that willingness to explore is necessary, but novelty and creativity in exploring and utilizing IS are also needed to capitalize on the potential of IS. This paper makes an important contribution by identifying relevant traits that can be utilized in future research studies of IS users to achieve the maximum benefits of IS.
Citation Information
Brenda Eschenbrenner and Fiona Fui-Hoon Nah. "Creative Innovativeness with Information Systems (IS) and its Role in Quality IS Usage"
Available at: http://works.bepress.com/nahf/52/