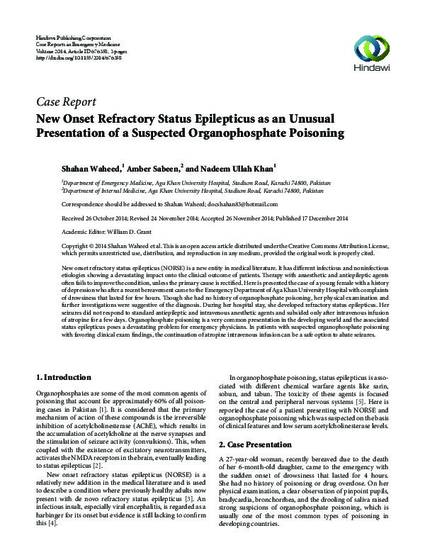 Article
New onset refractory status epilepticus as an unusual presentation of a suspected organophosphate poisoning
Case Reports in Emergency Medicine
Publication Date
12-1-2014
Abstract
New onset refractory status epilepticus (NORSE) is a new entity in medical literature. It has different infectious and noninfectious etiologies showing a devastating impact onto the clinical outcome of patients. Therapy with anaesthetic and antiepileptic agents often fails to improve the condition, unless the primary cause is rectified. Here is presented the case of a young female with a history of depression who after a recent bereavement came to the Emergency Department of Aga Khan University Hospital with complaints of drowsiness that lasted for few hours. Though she had no history of organophosphate poisoning, her physical examination and further investigations were suggestive of the diagnosis. During her hospital stay, she developed refractory status epilepticus. Her seizures did not respond to standard antiepileptic and intravenous anesthetic agents and subsided only after intravenous infusion of atropine for a few days. Organophosphate poisoning is a very common presentation in the developing world and the associated status epilepticus poses a devastating problem for emergency physicians. In patients with suspected organophosphate poisoning with favoring clinical exam findings, the continuation of atropine intravenous infusion can be a safe option to abate seizures.
Creative Commons License
Creative Commons Attribution 4.0
Citation Information
Shahan Waheed, Amber Sabeen and Nadeem Ullah Khan. "New onset refractory status epilepticus as an unusual presentation of a suspected organophosphate poisoning"
Case Reports in Emergency Medicine
Vol. 2014 (2014) p. 1 - 4
Available at: http://works.bepress.com/nadeemullah_khan/11/