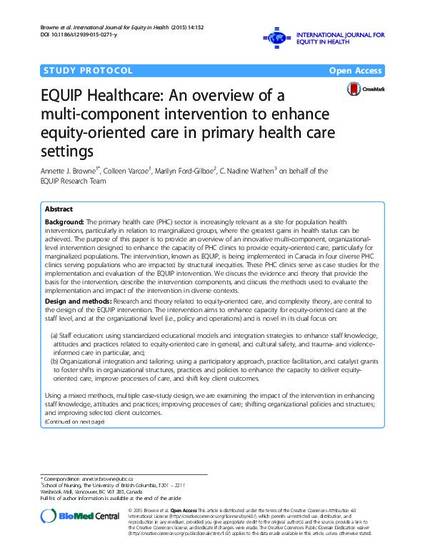 Article
EQUIP Healthcare: An overview of a multi-component intervention to enhance equity-oriented care in primary health care settings
International Journal for Equity in Health
Publication Date
12-14-2015
URL with Digital Object Identifier
10.1186/s12939-015-0271-y
Abstract
Background: The primary health care (PHC) sector is increasingly relevant as a site for population health interventions, particularly in relation to marginalized groups, where the greatest gains in health status can be achieved. The purpose of this paper is to provide an overview of an innovative multi-component, organizational-level intervention designed to enhance the capacity of PHC clinics to provide equity-oriented care, particularly for marginalized populations. The intervention, known as EQUIP, is being implemented in Canada in four diverse PHC clinics serving populations who are impacted by structural inequities. These PHC clinics serve as case studies for the implementation and evaluation of the EQUIP intervention. We discuss the evidence and theory that provide the basis for the intervention, describe the intervention components, and discuss the methods used to evaluate the implementation and impact of the intervention in diverse contexts. Design and methods: Research and theory related to equity-oriented care, and complexity theory, are central to the design of the EQUIP intervention. The intervention aims to enhance capacity for equity-oriented care at the staff level, and at the organizational level (i.e., policy and operations) and is novel in its dual focus on: (a) Staff education: using standardized educational models and integration strategies to enhance staff knowledge, attitudes and practices related to equity-oriented care in general, and cultural safety, and trauma- and violence-informed care in particular, and; (b) Organizational integration and tailoring: using a participatory approach, practice facilitation, and catalyst grants to foster shifts in organizational structures, practices and policies to enhance the capacity to deliver equity-oriented care, improve processes of care, and shift key client outcomes. Using a mixed methods, multiple case-study design, we are examining the impact of the intervention in enhancing staff knowledge, attitudes and practices; improving processes of care; shifting organizational policies and structures; and improving selected client outcomes. Discussion: The multiple case study design provides an ideal opportunity to study the contextual factors shaping the implementation, uptake and impact of our tailored intervention within diverse PHC settings. The EQUIP intervention illustrates the complexities involved in enhancing the PHC sector's capacity to provide equity-oriented care in real world clinical contexts.
Citation Information
Annette J. Browne, Colleen Varcoe, Marilyn Ford-Gilboe and C. Nadine Wathen. "EQUIP Healthcare: An overview of a multi-component intervention to enhance equity-oriented care in primary health care settings"
International Journal for Equity in Health
Vol. 14 Iss. 1 (2015)
Available at: http://works.bepress.com/n-wathen/19/