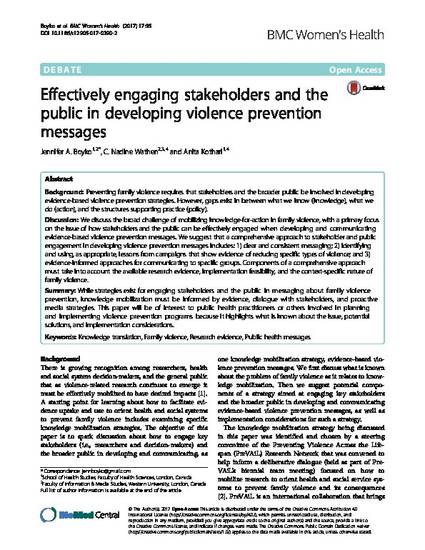 Article
Effectively engaging stakeholders and the public in developing violence prevention messages
BMC Women's Health
Publication Date
5-11-2017
URL with Digital Object Identifier
10.1186/s12905-017-0390-2
Abstract
Background: Preventing family violence requires that stakeholders and the broader public be involved in developing evidence-based violence prevention strategies. However, gaps exist in between what we know (knowledge), what we do (action), and the structures supporting practice (policy). Discussion: We discuss the broad challenge of mobilizing knowledge-for-action in family violence, with a primary focus on the issue of how stakeholders and the public can be effectively engaged when developing and communicating evidence-based violence prevention messages. We suggest that a comprehensive approach to stakeholder and public engagement in developing violence prevention messages includes: 1) clear and consistent messaging; 2) identifying and using, as appropriate, lessons from campaigns that show evidence of reducing specific types of violence; and 3) evidence-informed approaches for communicating to specific groups. Components of a comprehensive approach must take into account the available research evidence, implementation feasibility, and the context-specific nature of family violence. Summary: While strategies exist for engaging stakeholders and the public in messaging about family violence prevention, knowledge mobilization must be informed by evidence, dialogue with stakeholders, and proactive media strategies. This paper will be of interest to public health practitioners or others involved in planning and implementing violence prevention programs because it highlights what is known about the issue, potential solutions, and implementation considerations.
Citation Information
Jennifer A. Boyko, C. Nadine Wathen and Anita Kothari. "Effectively engaging stakeholders and the public in developing violence prevention messages"
BMC Women's Health
Vol. 17 Iss. 1 (2017)
Available at: http://works.bepress.com/n-wathen/12/