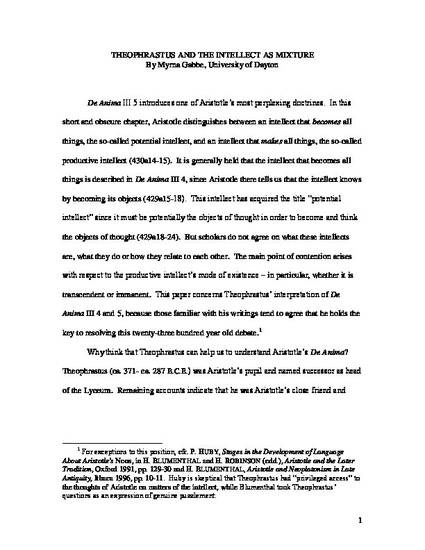 Article
Theophrastus and the Intellect as Mixture
Elenchos
Publication Date
1-1-2008
Abstract
De Anima III 5 introduces one of Aristotle's most perplexing doctrines. In this short and obscure chapter, Aristotle distinguishes between an intellect that becomes all things, the so-called potential intellect, and an intellect that makes all things, the so-called productive intellect (430a14-15). It is generally held that the intellect that becomes all things is described in De Anima III 4, since Aristotle there tells us that the intellect knows by becoming its objects (429a15-18). This intellect has acquired the title "potential intellect" since it must be potentially the objects of thought in order to become and think the objects of thought (429a18-24). But scholars do not agree on what these intellects are, what they do or how they relate to each other. The main point of contention arises with respect to the productive intellect's mode of existence – in particular, whether it is transcendent or immanent. This paper concerns Theophrastus' interpretation of De Anima III 4 and 5, because those familiar with his writings tend to agree that he holds the key to resolving this 2,300-year-old debate.
Document Version
Postprint
Copyright
Copyright © 2008, Myrna Gabbe
Citation Information
Myrna Gabbe. "Theophrastus and the Intellect as Mixture"
Elenchos
Vol. 29 (2008)
Available at: http://works.bepress.com/myrna-gabbe/5/