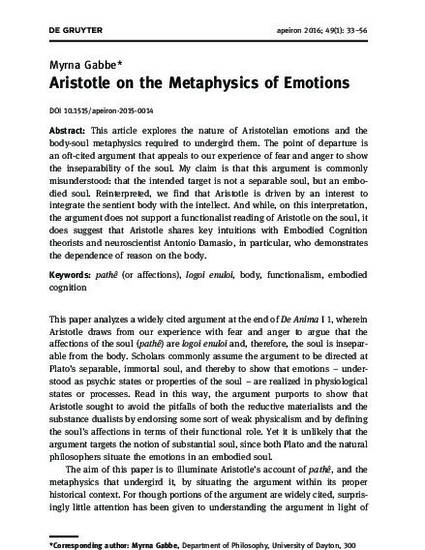 Article
Aristotle on the Metaphysics of Emotions
Apeiron: A Journal for Ancient Philosophy and Science
Publication Date
1-1-2016
Abstract
This article explores the nature of Aristotelian emotions and the body-soul metaphysics required to undergird them. The point of departure is an oft-cited argument that appeals to our experience of fear and anger to show the inseparability of the soul. My claim is that this argument is commonly misunderstood: that the intended target is not a separable soul, but an embodied soul. Reinterpreted, we find that Aristotle is driven by an interest to integrate the sentient body with the intellect. And while, on this interpretation, the argument does not support a functionalist reading of Aristotle on the soul, it does suggest that Aristotle shares key intuitions with embodied cognition theorists and neuroscientist Antonio Damasio, in particular, who demonstrates the dependence of reason on the body.
Document Version
Published Version
Copyright
Copyright © 2016, Walter de Gruyter
Publisher
Walter de Gruyter
Keywords
pathê (or affections); logoi enuloi; body; functionalism; embodied cognition
Citation Information
Myrna Gabbe. "Aristotle on the Metaphysics of Emotions"
Apeiron: A Journal for Ancient Philosophy and Science
Vol. 49 Iss. 1 (2016)
Available at: http://works.bepress.com/myrna-gabbe/4/