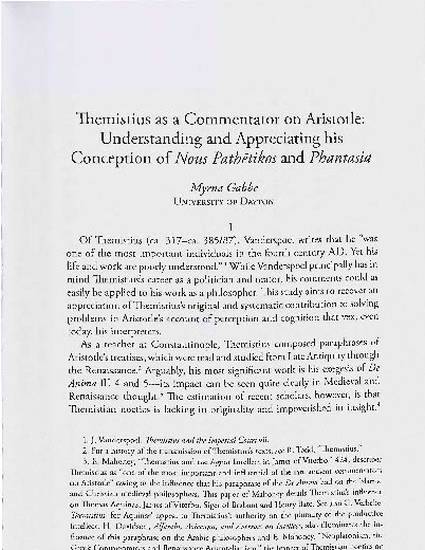 Article
Themistius as a Commentator on Aristotle: Understanding and Appreciating His Conception of 'Nous Pathetikos' and 'Phantasia'
Dionysius
Publication Date
12-1-2008
Abstract
Themistius is not only a commentator on Aristotle; he is also one of our main sources of Theophrastus on the intellect. Hence, it is important to understand how he approaches and reads texts. It is my view that care and rigor are reflected in his treatment of nous pathêtikos. In this paper, I argue that Themistius postulates a third intellect whose job is to discern enmattered forms-i.e., sensible particulars-on the reasonable assumption that the productive and potential intellects are responsible solely for our contemplation of un-enmattered forms. As such, the passive intellect is responsible for what Aristotle calls incidental perception and, thereby, plays an important role in nearly all of our affections (pathê). It is a mistake, however, to regard Themistius's nous pathêtikos as a distinct third intellect that stands alongside its productive and potential counterparts. This intellect, I contend, emerges as part of a larger effort to explain the intellect's relation to the rest of the soul in light of the unique way that humans experience the world.
Document Version
Published Version
Copyright
Copyright © 2008, Dalhousie University
Publisher
Dalhousie University
Citation Information
Myrna Gabbe. "Themistius as a Commentator on Aristotle: Understanding and Appreciating His Conception of 'Nous Pathetikos' and 'Phantasia'"
Dionysius
Vol. 26 (2008)
Available at: http://works.bepress.com/myrna-gabbe/2/